Is it manure, or is it garden gold?
We got our goat pens cleaned down to gravel earlier this fall, after not being cleaned out since a year ago. But our donkey pen/old birthing pen/buck pen hadn't been cleaned out yet and there was this mountain on the east end. It's been snowing and getting colder at night; down to the teens. We know that pretty soon even the rotted manure in the barn will freeze and we'll all be stuck with it all winter. Not a nice thought.
But having David in school all day, then with sports and activities, he is not able to help much. And Mom, being 91 and in a wheelchair, requires me inside most of the day; I can't leave her alone for over 15 minutes, so I'm back and forth, back and forth on my bad knee.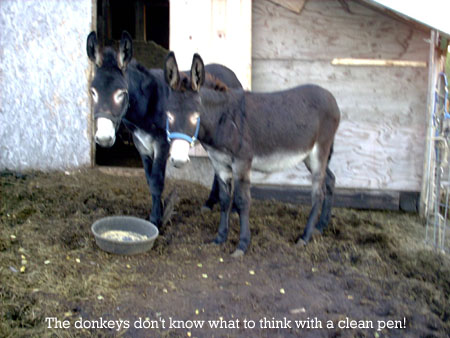 Last night I had this great idea. We have a light in the goat/donkey barn, so maybe after Mom is in bed, I could go out and shovel manure. It's a little wierd hauling manure by ATV light, but hey, it's working! I hauled three loads out last night and another two tonight, after having David to help me a little before that.
The mountain is down, nearly to gravel and best yet, the manure is pretty nicely spread on the garden. We haul it in a garden trailer that has a removable tailgate and dumps. So I drive it out onto the section I'm going to spread manure on, remove the tailgate and pull the dump lever. The I hop on the ATV and give it a sudden start, which initiates the manure falling out onto the ground. With luck, it continues spreading pretty evenly until it's empty.
The manure is mostly well rotted bedding/manure mixed and will be a great addition to our new garden. (Remember how I had two foot high corn because of lack of fertility on one side?) That won't happen again!
So if you're flying over and see an erratic light moving about in our garden at night, it's not drug runners. It's just me spreading manure when I can. Sort of the reverse of "make hay while the sun shines…..".