Why do you feed the birds? It's a waste of money!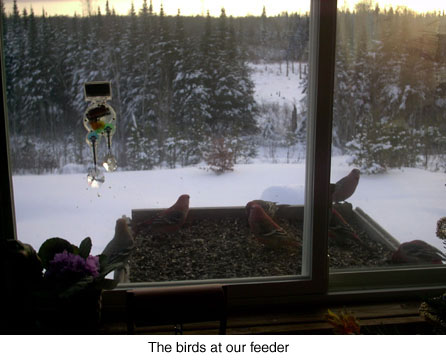 Yes, I feed the birds.  Both summer and winter.  But the joy of the colorful interaction, just outside the window during the cold, bleak winter months and the symphony of birdsong around the place in the spring and summer more than makes up for the seed I buy.  Then there's Mom, who is in a wheelchair and is nearly blind.  She can sit by the big window in the greenhouse and watch the birds come and go all day and it provides her with enjoyment and entertainment.
But those birds pay me back, too.  Some are "meat eaters" and eat garden pests right out of the garden.  I've laughed when bluebirds chased down white cabbage moths, up and down the rows.  They always catch them, too!  Chickadees, nuthatches, woodpeckers and wrens all help the bluebirds patrol my garden for me.
Other birds are seed eaters.  They go around and eat tons of weed seeds for me; grass, thistle, pigweed and others.  You won't hear me complain!
No.  I don't eat the birds, or sell them or "make" anything from them.  But to me they're still a very valuable homestead commodity.  Priceless treasues, actually, here in the backwoods.
Reader's letter:
DON'T leave the jars in canner until cold
Thank you so much for the practical education I've received from your writings in BHM. I have a question that popped up last week and I immediately thought of you as a possible source of
enlightenment.
So here's the backstory: The Thanksgiving turkey. No way in Hell was I going to do what I did last year, when I and my family picked on the carcass for a week or two as it sat there taking up valuable fridge space and finally my wife laid the poor dried-out, shriveled-up, still-good-for-a-pot-of-soup bird to rest in the garbage can. Nope. This year I was gonna use the whole dang bird.
So I boiled it for about 12 hours in water with a shot of vinegar, pulled the meat, diced it, packed it in half-pint tapers and topped 'em up with broth. The rest of the broth went into wide-mouth quarts. And into the Presto they went.
OK, so when it was time to get them out, I let the Presto cool down until the built-in weight dropped. Then I popped it open and started to unload.
That's when I heard a faint whistling sound. Very, very faint. If I hadn't happened to be alone in the house I would not have heard it. The sump pump running would have drowned it out. I am still not sure what it was, but here's my worry: Could it have been a jar seal that didn't quite take — that sucked in a tiny bit of atmospheric air before sealing up and becoming indistinguishable from the others? And if it sucked in some air, is it theoretically possible that it could have picked up a botulism spore with it?
I managed to isolate what I think was the jar making the noise. After everything was cool, it was indistinguishable from the others. It was sealed up nicely. None of the others in this batch failed to
seal. Of course, I popped the suspect open and ate it the next day.
Right now I'm canning up the Christmas turkey — which is what brought it to my mind — and out of sheer paranoia I think I'll just leave the food in the kettle all night until it's stone cold tomorrow morning.
But, what do you think? Is there a danger involved with the Thanksgiving stuff?
Finn J.D. John
Albany, Oregon

No!  No!  Don't leave the jars in the canner until it's stone cold.  That is the best way for your jars NOT to seal.  They need the transition from very hot (the canner with the pressure just returned to zero) to room temperature in order for them to seal.  Take 'em right out as soon as your pressure is down to zero.  The whistling sound you heard is normal; it's the sound of the seals beginning to suck down.  It doesn't always do that but it is common and nothing to worry about.  Just check your seals when the jars are cold.  If they're well sealed, they are perfectly safe. — Jackie