I'm planting in the garden — finally!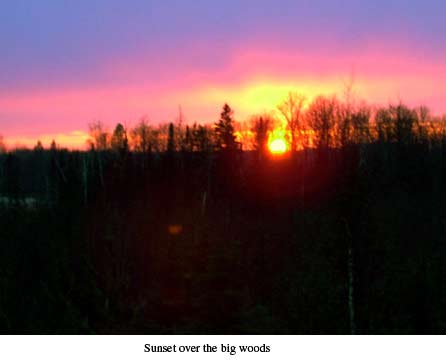 Okay, so it's just the first week in May, but I'm anxious.  Last year we didn't get planted until the last weekend in May because I was waiting for my son, Bill, to bring his crawler up to enlarge our garden.  He did, making it twice as big, but by the time I got it fenced against the deer, I was late getting things going.
This year I'm pushing for a really productive garden, including tons of fruit trees, bramble bushes and perennial plants.  The prices at the grocery store really scares me!  No way am I paying $1.99 a pound for plums grown who knows where!
So far, I've planted 3 Hanson's bush cherries, 5 Manchurian apricots, 4 more rhubarb plants, 50 more asparagus roots, a Toka and Golden Gage plum, northern Fuji apple, a Garfield Plantation pie cherry, two Patriot blueberries, 6 Fort Kent King blackberries, 2 Chinese chestnuts and 2 butternut trees.  And I've got more stuff coming!  Lots of holes!
I also put in six bags of onion sets, combining winter yellow and white with sweet onions.  Next comes the peas and potatoes.  I've saved a bunch of Yukon Gold seed potatoes but have to buy some Norkota Russets and Red Norlands as I want to have these, too.  And, of course, David simply MUST have his ALL BLUE potatoes!  They really are fun to grow and serve.  (Eyes pop at purple mashed potatoes.)
It won't be long before the broccoli plants, cabbages, cauliflower and celery go in, along with the turnips, rutabagas, beets and carrots.  I'm planting a lot of carrots and rutabagas this year.  We eat a lot of carrots and those rutabagas last year were HUGE, as well as awfully tasty.  The deer who got in and ate a lot of them can tell you that!
Two days ago I got my Meyer lemon tree from Parks Seed.  It was three feet tall!  A beautiful plant.  I let it acclimate a little in the greenhouse and I planted it today in a five gallon pot.  Boy it looks nice.  I also got a Ponderosa lemon from Logee's Greenhouse.  It isn't as tall, but it is a very nice, bushy plant.  These dwarf lemons produce nicely in a greenhouse or even in a sunny window.  And the blossoms make the whole house smell great!  I can't wait.
Tonight I was pretty tired.  It had rained all day, making chores dreary.  But I was also glad.  The trees are budding out with the valley turning a beautiful light green…sort of like a haze of springtime.  And that rain is helping get all those new plants and sets growing like crazy.  At sunset, when everything was done and Mom was in bed, I sighed and walked out onto our new deck, in the drizzling rain.  The sun was red and there was a flock of beautiful white pelicans floating on the small beaver pond in front of the house.  How nice to live way out here in the backwoods!
Readers' questions
Best and worst companies

Could you give advise on the BEST and WORST mail order companies in your opinion for seeds and plants (that are >not just a root!)
Julie Jaco
Senatobia, Mississippi

A huge help to me is the website, Dave's Garden; the Garden Watchdog. It gives lots of customer input on nearly every mail order company out there.  When you get 289 negative responses and 2 positive, you know there's a problem!
Some of my very favorite companies are Pinetree Garden Seeds, FEDCO, Starks, Miller Nurseries and Parks.  Good stuff, decent prices, good customer relations and good shipping practices. — Jackie
Canning Bulgur Wheat

Can Bulgur Wheat recipes be canned?
Vanessa Juryla
Bonners Ferry, Idaho

I honestly have had no experience with canning bulgur wheat. Have any other readers out there done it? — Jackie
Canning classes

I heard you recomend the Ball Canning Book, which I will order, but are there classes that I can take in my general area?  I live In Evergreen, Co. but are more than willing to go to Denver proper if need be. I am a visual learner and would really appreciate knowing where to go.
Miriam Vogelfanger-Coca
Evergreen, Colorado

I don't know of any canning classes, but you might check your Community Education at some local schools (Adult Education).  They sometimes have canning classes.  Another place to check might be your county extension agent.  Canning is so easy to learn.  You really don't need classes; it IS that easy.  If you can tell time and boil water, you already have the skills needed to can!  Good luck! — Jackie
Canning scrambled eggs?

For the lady asking about preserving eggs, do you suppose they can be scrambled and canned?  They can be scrambled and frozen if you have lots of freezer space but canning sounds like it should work. Maybe…
Nancy Foster
Dallas City, Illinois

Maybe they can.  Only I wouldn't know what processing time to use for them. You might use the same for meat, but that might make them overcooked.  Sorry, I don't have a clue.  As far as I know there never has been a canned scrambled egg product available. — Jackie
Messy ducks

I have two khaki campell ducks. They are good layers but not very hygienic.My question is how to corretly clean the eggs?I've been cleaning with antibacterial soap and hot water. The eggs are more porous then chicken.So is this method placing soap in my eggs?
Martin Contino
Milford, Pennsylvania

If you just wash the eggs off fairly quickly, you won't have soap in your eggs; it takes lengthy immersion for this to possibly happen. You don't need antibacterial soap; simple dishwashing soap will do. It kills bacteria very well.
A hint: Ducks are messy so if you make a simple frame of 1″x4″ lumber and fill it with sawdust so the ducks have to walk through it to lay their eggs in the nest box, they'll self-clean to a great extent.  Just make their nest box very enticing or they'll lay in the sawdust. — Jackie