Well, gardening is really getting under way at our place. I tilled up the strip that was woods last spring at this time, having worked in much rotted manure last fall. First I planted 40 Jersy Knight asparagus roots along the fence. Obviously, we all love asparagus….I also have another 30 three year old roots on the opposite side of the garden, next to THAT fence.
Then I set in 460 onion sets of three varieties. Oh my back! Wow is that 100′ garden ever long! I put them in a wide bed, four abreast, the whole length.
And on the other side of the onions, I put in 25 Latham red raspberries. These I got from Pinetree Garden Seeds, one of my very favorite companies. And BOY were they huge! And cheap, too. The plants were stocky, budding out and the huge roots with little baby plants starting from them. No wonder you have to be careful not to let the raspberries take over the garden.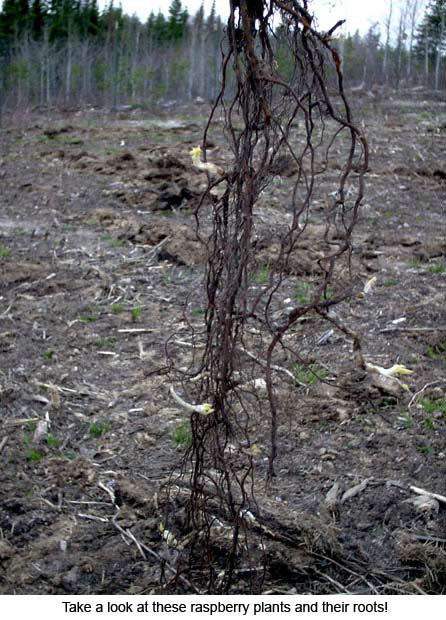 Those in, I put in two full rows of carrots; my pantry really is low on them now, so I have to have lots and lots to can up this fall.
Today I followed that up with 95 hills of potatoes, Red Nordland, Yukon Gold, Norkota Russets and assorted fingerling potatoes. When the economy looks bad, I plant LOTS of the basics! And bad it looks right now.
(Boy, my huge garden is getting kind of slim.) Luckily, David opened up another 15'x50′ on the north end of the garden the other day with the dozer! Mmmm. The possibilities…..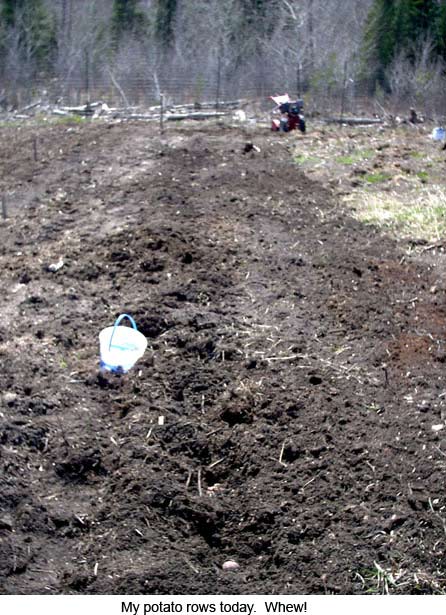 Readers' questions:
Grinding flour fine enough
I have just purchased a 50# bag of hard red wheat and a 50# bag of soft white wheatand the grinder I have does not seem to grind it fine enough. Its like fine sand. Is this the correct texture? I have never ground berries before. What should the flour look like, I have read that it is courser than store bought. I have found a grinder at Walton Feed that looks like one in your pictures online that your son is using. Back to basics grain mill #XO24. Its in my budget. What are your suggestions?
Kevin Gray
Ellendale, Minnessota
Run the coarse flour through the mill two or more times. It gets finer with more passes through. Yes. Home ground whole wheat flour IS coarser than storebought white flour, but it sure makes great bread and rolls! I think you'll find your flour, ground twice, is plenty fine for baking. Enjoy! — Jackie
Homestead income
What suggestions or advice might you have for folks that would like to break into homesteading or become full time homesteaders? My husband and I live on 1.3 acres with dogs and chickens. We'd like to move to a larger piece of property where we can be much more self sufficient, though, we make the most of the land we have. Also, my husband is an engineer and I work for a local library system. What is the primary source of income for most homesteaders? Does their income come primarily from their land?
Leah Fox
Longbranch, WA
Most homesteaders do NOT make their income primarily…or even mostly from their land. It takes a good deal of creativity and a whole lot of work to make money from a homestead….money you can see, at any rate. You CAN grow most of your own food and your livestock's food if you have land enough, or small livestock.
Homesteaders' jobs vary as much as anyone else's, but we all have one thing in common; the drive to "grow our own" and live a freer lifestyle. With the economy going nuts lately, this is getting more and more important.
My best advice? Try to get out of debt as much as possible, start slowly and enjoy every bit of it. All the best of luck!!! — Jackie
Food to throw away
We just received a whole lot of quart canning jars. They are full of very old canned contents, from rabbit to collards. Most are still sealed. My husband wants to feed the contents to the pigs. I am afraid to, as in addition to being very old, I know the lady did not use a pressure canner. I worry about botulism. What are your thoughts?
Glen Heck
Natchitoches, Louisiana
I agree with you. Because she did not use a pressure canner, these foods are not safe….even for your hogs. I'd dig a deep hole in a remote location and bury them. Then wash the jars out well with hot soapy water and follow up by boiling them for 15 minutes in a hot water bath canner. You'll have great jars to fill up with your own goodies… canned right! — Jackie
Canning with honey
I am wanting to can with Honey or raw sugar in place of white refined sugar Is it possible?
Julie Marsh
Kinsville, Missouri
Yes, difinitely. There are many jam and jelly recipes using honey instead of refined sugar in Rodale's STOCKING UP. Otherwise, just substitute in your fruit syrup to taste. Making jams and jellies with honey instead of sugar is a bit fussier, but can certainly be done. — Jackie
Canner problem
Following up on pressure canner procedures: In your blog post of May 6, 2008, you answered a question from Jack & Deb Horan of New Hampshire with the statement "Don't can at too high a pressure." The rest of your answer implied that 15 psi would be considered too high at their altitude of 750 ft MSL, causing the jars to lose food and fail to seal.
I have a new Presto dial gauge pressure canner and I've run three or four batches through it in the past month. My altitude here is very close to 900 ft MSL. I have noticed that I cannot keep the pressure consistently at 11 psi — steam leaks out the vent lock until about 15 psi. Once it reaches 15 or so, everything seals up tight but I have to turn the heat down to almost nothing in order to prevent further pressurization. I can't get it to drop below 15 without turning the heat off altogether.
I opened one jar of the canned beef last night and found it to be almost too overcooked — not much texture left. None of the jars has blown out or leaked in processing, so I don't think it's been unsafe, but I do wonder how to better regulate that pressure and not overprocess the meat.
Any further tips?
Carol Logan Newbill
Birmingham, Alabama
I would definitely call the company; this is not normal. You should be able to hold your pressure wherever you need to and the exhaust valve should not leak steam, once closed. — Jackie
Hopi Pale Grey seeds
My husband and I have only been receiving BHM for less than a year but we read each issue cover to cover and have learned so much. We bought a small farm almost two years ago and plant a good sized garden which produces abundantly. We have never been big squash eaters but last year we found that we really liked the yellow squash so we ate it both fresh and frozen. We would like to try your favorite Hopi Pale Grey if you still have a few seeds to share; if not, could you tell me where to find them? We look forward to the next issue with all the articles and questions. This year I am canning meats due to your great answers to others' questions. Thanks to everyone for a great magazine.
Mikki Frazier
Peel, Arkansas
I'm about out of seeds, but SEED DREAMS, P.O. Box 106 Port Townsend, WA 98368 has seeds. They also have a great seed listing, but please send a couple of bucks to cover costs as they are a very small family business. No color catalog or outrageous postage costs, but HOPI PALE GREY SQUASH SEEDS!!!! — Jackie
Preserving ramps
I have some fresh harvested ramps. I would like to refrigerate them in some solution to preserve them, any suggestions on a mixture?
Jack Arnold
Annandale, Virginia
Your best bet would be to chop or slice your ramps and freeze them or else dehydrate them. Either way, you'll have ramps to your heart's delight when you want a mess. — Jackie
Canned bacon
You were asking in the last issue if anyone knew of any canned bacon available. MREdepot is scheduled to get some in soon.
Cheryl Driggs
Spring, Texas
Thanks Cheryl. Another reader also pointed us to this site. Hopefully this will come about and be a good source for those who want commercially canned bacon to add to their pantry. — Jackie
A root cellar
I was wondering. I see a lot of people asking questions and it might be just me. Most of the posts are from the Northern States. I live in Mississippi is it still feasible to do a root cellar even though we are very humid and hot? I have only been here a few years and this is my 1st attempt at doing anything self reliant, I am starting with a garden. Everything spoils so quickly, even in the house when the air is on. Who would I contact to find out about root cellaring in my area? The county extension? Thanks for your response. Oh, BTW I have bought the book Rootcellar off your website.
Julie Jaco
Senatobia, Mississippi
A root cellar is of benefit in the deep south, provided that you have the walls and ceiling, especially, very well insulated against the heat. The cellar, dug into a steep hillside or bank, with plenty of soil overhead will act as a coolant and will keep vegetables nicely in the winter, provided that the door is also insulated well and there is a ventilating shaft so that fresh air can lightly circulate in the cellar. Your book should help, and YES, your county agent should be able to help you, too. — Jackie
Open pollinated varieties
Do you have a list of vegetables that you grow. I was reading on the web site one of your articles about seeds (Grow open pollinated seeds for self-reliant gardening) You said that you grow mostly plants that are from Native American tribes of the U.S. and Mexico. I just received my first two magazines yesterday along with two books and am interested in buying seeds that are open pollinated. Hopefully you will be able to help
Paul Edem
Kirkville, New York
I do grow a lot of Native American varieties, but not really "mostly". There was a pretty extensive list of what I'm growing this year in the last STARTING OVER article in BHM, early this spring. Just a few of my OP varieties I grow are: Oregon Spring, Polish Linguisa, Goliath, Silvery Fir Tree and Amish Paste tomatoes, Giant Marconi, Gypsy, Quatro de Milpas and Early Jalepeno peppers, Goliath broccoli, Cherokee Trail of Tears, King of the Early, Provider and Dragon Tongue beans, Blacktail Mountain, Hopi Yellow and Moon and Stars watermelons, Pueblo Mix, Alaska, Canoe Creek Colossal and Noir des Carmes muskmelon, True Gold and Cherokee White flour corn and Japanese Climbing cucumbers. Of course I grow lots and lots of others, varying from year to year. Growing these open pollinated varieties is not only fun but economical because you always have plenty of your own seed to use and share. — Jackie