I'm bushed, but boy are we getting things done!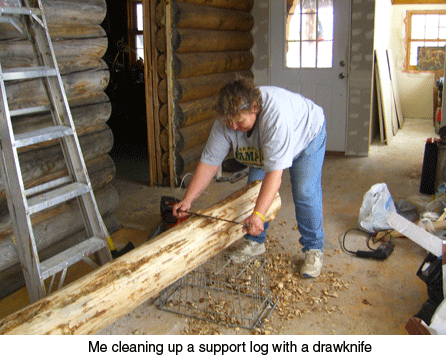 Our drywalling is coming along well, but Will and I kind of needed a break in it; there's just so much. We got the new laundry room finished, except for the trim around the door and windows. We also moved the old living room window out of the wall and into the laundry room. So now all our north-facing house windows match. And that laundry room is SO sunny and bright. Wow! Will cut trim for the walls from left-over pieces of log siding that we used in the upstairs bedrooms. I stained it and yesterday, we put it all together. Very nice! The paint came from the left-overs from my son, Bill's house, so the laundry room is costing us very little to finish, but for the insulation and drywall.
Will has the ceiling in the entryway mudded and taped, and I've done all the screw heads. But for a break, yesterday, we knocked out walls of the house. Really. After carefully supporting the bearing walls with 10″ vertical posts, we sawed and whacked logs and now have two graceful arches over open expanses of floor. Talk about light and room! Wow! But boy was that a job!!! The logs were screwed together with 12″ log screws and we ruined two chainsaw chains doing the cuts. Will winced and sharpened, then cut some more. We cut the screws we could find with a Sawsall, but there were always ones we didn't know were there and OUCH! Sparks flew! But this morning we cleaned up our mess and were ready to start over again. What we do for fun, out here in the backwoods!
Readers' Questions:
Homestead life
My wife and I want to live the homestead life, but we only have five acres and three of it is wooded. I know that is not a large enough piece of property, but how much is enough? Also how can a person get started without incurring debt? I want to live that life, but without having a piece of family owned land or $200,000 to start with I don't see how to get started.
Wally Orr
Harrisburg, Arkansas
I'm just not sure what you mean by living the homestead life. Do you mean totally living off your land? Or slowly working toward a self reliant lifestyle? With five acres, you already have more than many people have had when they started. My best advice is to start gradually and pay as you go. If you will be building a home, perhaps you could find a free used mobile home to "camp" in while you slowly build your debt free home. With a couple of acres clear, you can have a large garden, an orchard, room for chickens, dairy goats, a pig or two and much more. By using rotation grazing, and alternating your chickens between a garden and another garden or chicken yard, you can make much use from small land. Read the book, "The Have-More Plan" by the Robinsons. It's very inspirational for people having a few acres and wanting to make the best use of it.
I didn't have $200,000 either, nor family owned land to move into. We had to work our way up by lots of hard work and careful saving and planning. You will too. But the rewards are great if you stick with it. The best of luck! — Jackie
Canning orange juice concentrate and butter
I have a freezer full of concentrated orange juice. I would like to put them all in jars if possible. How would I go about canning concentrated frozen orange juice. I buy 24 cans of it at a time but would get more if I could can it. Also I know I have read about canning butter but can't find where it is. Please tell me where to find it.
Your box is on its way, finally. Let me know when it gets there.
Nancy Foster
Dallas City, Illinois
I got your box Saturday. I was overwhelmed with your wonderful gifts. I've never dreamed of so many flavors of candied nuts. Wow! Thank you for your box and thought. We appreciate it very much.
Sure you can home can that frozen orange juice. And it's easy, too. Simply reconstitute your orange juice. Then place it in a large enamel or stainless steel kettle and bring to 190 degrees and hold it there for 5 minutes. Don't boil. Then ladle into hot jars, leaving 1/4 inch of headroom. Process either pints or quarts for 60 minutes in a boiling water bath. If you live at an altitude above 1,000 feet, consult your canning manual for directions for adjusting your time to suit your altitude if necessary. That's it! I told you it was easy. Enjoy.
As for the butter, here's an answer from a blog last year on the same question, so I'm passing it on to you: Yes, I can butter, along with milk and cheese. Be advised that although these recipes are in several good books and available on line, it is still "experimental" canning, as there are no recipes from experts. Most advise against it because no research has been done re; botulism.
In a saucepan, I slowly melt the butter, heat it, stirring so it doesn't scorch, to lessen the moisture in the butter. Ladle this into jars sterilized in a boiling water bath canner and air dried, to within 1/2 inch of the top. Wipe the rim clean, place a hot, previously simmered lid on the jar and screw down the ring firmly tight. I process my jars for 60 minutes in a boiling water bath canner.
Again, this is what I do, I'm not "advising" anyone to follow suit. — Jackie
Canning chicken and rice soup
I canned some chicken soup using your recipe in the magazine several months ago. You said I could throw a handful of rice in, so I did. I put 1/4 cup rice in each quart. But when they were finished, the rice was all clumped together. I've been hesitant on opening up a jar and feeding it to my family, because I'm concerned that the big clump of rice, which is immovable in the jar, didn't get hot enough in the middle of that clump. Am I overreacting?
Lori Siburt
Cambridge, Ohio
While the "clump" of rice settles out after canning, during canning, it is an active, boiling mass of particles, not a clump. You'll find that it did, indeed, get heated through during processing. Simmer up a jar of soup and enjoy it. — Jackie
Canning lemon juice
I asked for excess fruit on our local freecycle, and received two huge rubbermaid tubs of lemons. I canned some juice already, but have three gallons in freezer waiting. I have a concern that 1: I did not add sugar. 2: I water bath canned for 10 minutes not 15. 3: I left about 1/2 inch headspace not 1/4. Are they going to be ok or should I re-can or throw out? Also will be getting grapefruit soon. Same directions?
Diana Curry
Spring Hill, Florida
Sugar is for taste only, in this case. But skipping five minutes in the water bath might cause problems. If it were me, I would probably re-can the batch, using 15 minutes and the 1/4″ of headspace. The headspace, in this case, alone wouldn't make much of a difference. Just be sure the juice looks and smells normal, then re-do it. Better safe than sorry. — Jackie
Canning dry goods
Would like to ask if this idea might work or if you've tried anything like this before. I've seen various methods of "dry" canning such as nuts for example where you put the nuts into the canning jar (dry), boil your canning lid and screw on the ring and/or after that place the jar into a canner with water only up to lid/ring area (not submerged with water over the top of jar and process. I would like to try dry goods such as a dry cookie mix, dry pancake mix, or even dried milk powder and "can it" so to speak or would this be a waste of time; would the mixes just go rancid? Thank you very much for your time and help.
Pam Ayala
Arlington, Washington
I honestly don't know. You could try a few jars and see how they keep. It's an interesting idea; basically vacuum packing dry foods that don't require canning. — Jackie
Ceiling plans
I see Will mudding the walls and no sheetrock on the ceiling. What do you have planned there?
Love your blog, I check it everyday.
Ron Rogers
Centerview, Missouri
We're putting tongue and groove knotty pine on the ceiling. We both love wood, and don't want too much drywall. We're making lots of progress, so I'll keep you posted! — Jackie