We had a terrible summer, but November was pretty wonderful. It was warmer than usual and we had no snow to speak of. So we got a lot of things done in preparation for winter that we probably wouldn't have if we had a "normal" November. But now the temperatures are quickly going down and we are forecast to have temps in the 18 degrees range for highs. Single digits for lows. Brrrr. So today I had to thaw hoses to water the horses, donkeys, and calves and carry buckets of water to the goats and huskies. While I did that, Will carried straw from a round bale to our strawberry bed in the house garden to tuck them in for winter.
He was taking a "break" from working on the final drive of our bulldozer in the entryway. Luckily, he could work on it indoors, where there was heat. It was a long, hard job, and he's about got it done, with new bearings, clutch discs, and lots of bolts. This afternoon, after all was about done, I caught him and his trusty dog, Spencer, grabbing a nap. Well earned, I'd say!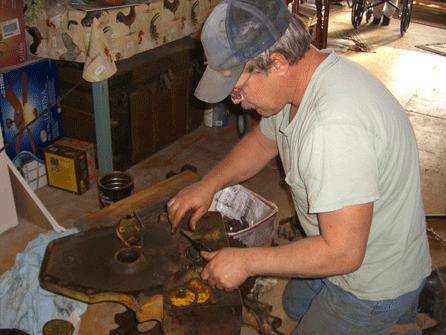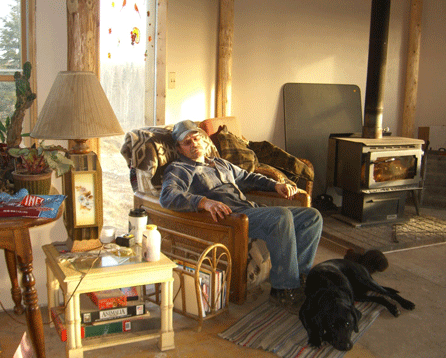 Readers' Questions:
Crop failures and gardening challenges
I have a couple of questions for you. Somehow, we did manage to get some mature squash in our summer of no summer here in northern Minnesota. Or at least, I thought they were mature. Sure, we had some little green ones and I just threw those in the compost pile. I cured the matures ones (pumpkins, butternuts, buttercups, amber cups, acorn squash) in the garage for a few weeks, then moved them into our storage area. They did not get frost, although we had a few nights where it was below freezing while they were in the garage.
They are all starting to mold and rot already. Did they not get enough time to mature on the vine? Otherwise, I think I'm doing everything I usually do with them and my squash usually store well into January or February. I've been forced to cook them up as quickly as possible and freeze them instead, which ties up freezer space.
My other question is: what variety of pickling cucumbers do you grow? I ran out of my tried-and-true seeds two years ago and have tried two different varieties in the last two years, with abysmal crop failures :( Two years ago ("County Fair" cucumbers) I got no pickles at all. The vines only got about two feet long and never produced any cukes. This past summer ("Homemade Pickles" cucumbers) I finally did get enough to make a couple of batches of pickles, but not the bushels and bushels we usually get. Our slicing cukes grew just fine. We probably didn't get as many as usual due to the cool summer, but we didn't have none either. Do you have a variety you would recommend for northern Minnesota that makes good pickles?
Carmen Griggs
Bovey, Minnesota
I don't think it was you. It's possible freezing weather may have caused the squash to freeze in your garage, or our nasty summer may have taken its toll. Sometimes wiping the squash down with bleach water will help (let them dry well before storing), but some years this just plain happens. Better luck next year!
Our cukes did terrible this year too. I did get a few pickles and slicers, but nothing like usual. Homemade pickles usually do great here. I also grow Sweeter Yet, Japanese Climbing, and Boston Pickler, among others. Usually all cukes do quite well, with plenty of water in dry times. They do like plenty of compost to grow in. — Jackie
Canning turkey soup
I don't own a pressure cooker. Can I can turkey soup and how long should I give it?
Esther Fernandez
Key Largo, Florida
Sorry, but you can NOT safely can any low acid foods, including turkey, turkey soup, vegetables, or meat products without a pressure canner. The pressure canner raises the temperature of the food above that of boiling water. No matter how long you boil food, the temperature never goes above boiling. This is unsafe for canning low acid foods as it does not kill bacteria which can cause food poisoning (botulism).
I don't want you to get sick, so try to find a friend or relative that has a good pressure canner that you can borrow. Maybe you can even have them come over for a mini-canning party so they can show you how easy it is to can.
Also, please pick up a good canning book (like my new one!) so you have easy-to-follow directions on canning all your foods. — Jackie
Classes for self-reliant living
Do you ever do classes on self-reliant living, canning, or gardening in the north? We are still trying to figure what does the best in Brainerd after moving here from Alabama.
David and Peggy Brunner
Brainerd, Minnesota

No I haven't. But we have considered it after we get our new homestead a little more under control (buildings and fences built, etc.!) I'd really like to do this but right now we hardly have time to sleep. I'll keep you posted when we are to the planning stage. — Jackie
Western bean cutworm moth
I would like to know what kind of moth or fly lays the eggs for the bean cut worm. I have been unable to find any info on it.
Carol Sorrells
Central Point, Oregon

I found this website page from Iowa State University that shows a picture for you, figuring a picture is worth 1,000 words. I hope it helps you. — Jackie