Saturday, April 30th, 2011
Last Thursday we closed on our property deal, buying the 40 acres of wild land, adjoining our homestead. Why in the heck do we need 40 acres, in addition to the 80 we had before? Let me explain. First of all, our driveway goes through that 40 acres. If it were sold to someone, the only place "buildable" is the ridge our driveway is on. Therefore, if someone were to build, we would be driving right by their house or cabin every time we went in or out. We did not want to live in the wilderness for that. And then there's always the question of what kind of neighbors we might end up with. We wouldn't want someone who was partying at all hours, let their dogs run to kill our chickens and livestock, shoot toward our home or animals, or otherwise be a bad neighbor. And we needed more pasture in order to be more self reliant. Now we have about 20 acres in pasture, but more animals on it than there should be. Therefore, we have to feed hay sometimes during the summer and fall. When we get that 40 fenced, we'll have all the pasture we will need, eliminating any hay feeding until winter. We will also gain some big woods for firewood and lumber, always a plus in the north country. And we enlarge on our own private wilderness.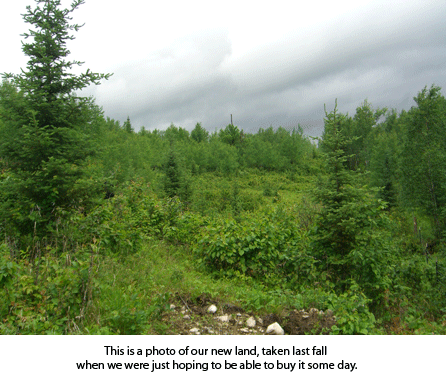 We worked hard and saved money even harder for more than a year in order to be able to make our down payment. Yes, we did have to buy it through the bank. But we should be able to pay it off within four years and felt the trade-off was worth being in short-term debt.
Oh, and I should mention that the ridge on which our driveway runs has the very best blueberry patch around! I'm pretty happy about that! — Jackie