Will is starting to clear pasture on our new forty acres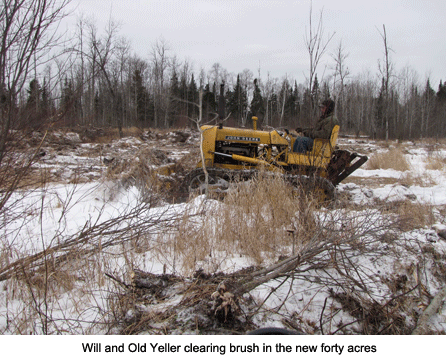 Old Yeller's working again. Because we have so little snow on the ground, Will has begun to clear the more open section of the new forty acres. Right now, it's covered mostly with grass, willow brush, and some small poplar trees. As the ground is frozen, the brush shears right off. The poplar trees can be pushed over and the roots come right out of the ground.
When he's not working, David is helping Will cut those small trees off from the stump, then limbing them, and stacking them for firewood. We use a lot of this small wood for the kitchen range and for our wood-fired stock tank heaters. Instead of just piling them and burning them, I like using this so-called waste wood.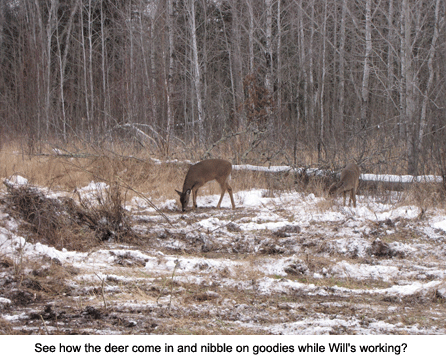 It's funny that even when Will's down there with Old Yeller snorting and shoving piles of brush, the deer come right in to graze on the green grass under the snow and nibble on the tender brush that they couldn't reach before. They pay no attention to him at all.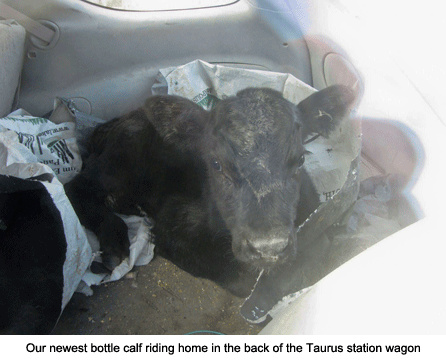 We picked up another bottle calf a couple days ago. Because the weather was cold and blustery, we took the old Taurus wagon to get him instead of the stock trailer. I didn't want him to get chilled. We put the back down and threw a tarp down "just in case." The calf rode very well and didn't even need the tarp! (No accidents.) What a good boy. Now we've got quite a few head of cattle, from our wedding cow, Lace, and her bull calf, Mac, to weaned calves, medium sized calves, and one big steer. Quite a little herd now! And at the price of beef, we're glad we have them. — Jackie