After seven years, I'm getting kitchen cabinets
There have always been higher priorities here than new kitchen cabinets, and Will wanted to hand-make ours. But time seems to fly by and finally I couldn't stand my messy kitchen any longer. With no doors to shut to close out boxes and jars, it seems like stuff is piled everywhere!
New cabinets are very expensive and not particularly well built. I would have liked custom cabinets that were well built, but Will just has way too many other BIG projects he's working on to do it. So we bit the bullet and found some pretty big-box cabinets at our local Lowe's. They are expensive, so we can only afford a cabinet every so often, and that's how we're doing it. So far I have three. It's a start and it's very encouraging to me, just having them sitting there. Only fifteen more to go — plus sink and counter top. But it'll get done, sooner or later, just like everything else on our homestead, and we won't end up with a big loan when we're done, either.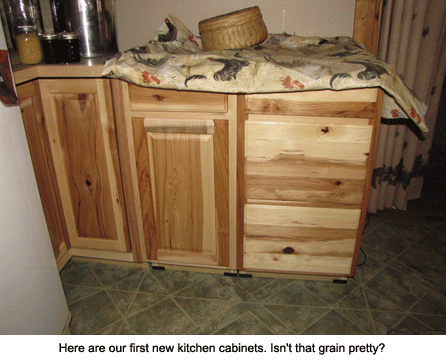 Meanwhile, Will is continuing his work clearing the new pasture on our new forty acres. He's got most of the dozing done and is now loading all those hundreds of small poplar trees onto the truck to stack for "small wood" firewood that we use in our cook stove and in the wood fired stock tank heater. We're supposed to get several inches of snow tonight, so he wants to get as much hauled as he can before that happens.
None of my peppers or petunias are up yet, but I keep peeking at them, waiting impatiently for those first tiny curled sprouts. — Jackie