Only when you live in the backwoods do your neighbors drive horses over to visit you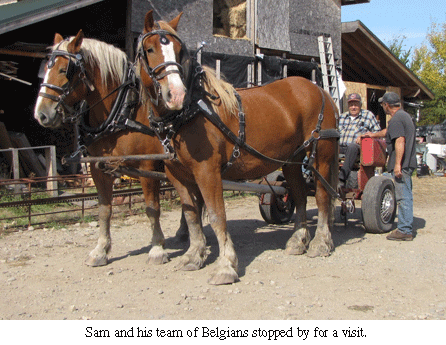 The other day our neighbor called to see if we were going to be home. We said "yes," and he said he'd be over in a few minutes. Well, a few minutes came and went and we wondered where Sam was. I looked out on the driveway and here was a big team of Belgians! Sam had driven a cart over instead of taking his truck. What a nice surprise! I "Belgian-sat" while Will took Sam and Jim, who had ridden over with him, down to show them the progress on the barn.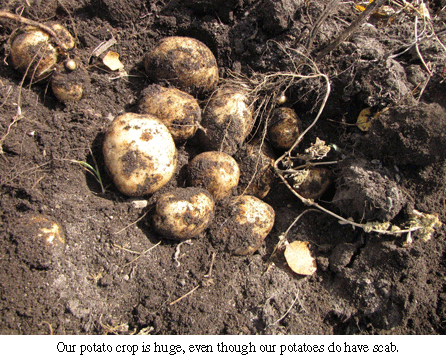 Today, I'm digging potatoes. We have a nice crop of very large potatoes, but unfortunately, there is some scab on our potatoes again. So next year we'll have to move the potatoes out of our garden. We tried rotating to new spots, and no luck. So the only out is to move them out of the garden entirely for a few years. Now we're trying to figure out the best spot for the new potato patch. Unfortunately, there's no treatment for scab. And, although you can still eat the potatoes, the skin is ugly and baked potatoes are kind of out. Oh well, there's always some problem to deal with on the homestead; nothing's perfect.