Acres and acres of pumpkins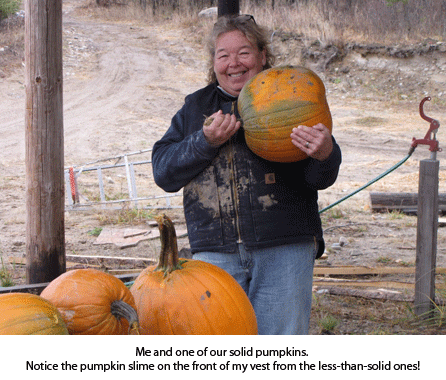 We sure had fun yesterday even though it was kind of trying to rain off and on. We drove 60 miles to a big market garden west of us to pick up a heaping truckload of pumpkins. They were sitting in the field. Some had frozen and were mushy. Some the deer had eaten on them badly. But there were a lot that were either still solid or semi-solid. All were good food for our animals. So Will and I drove the truck through the field, loading pumpkin after pumpkin until we couldn't get any more on our old Ford truck. We had a nice visit with the owner about different varieties of sweet corn and pumpkins. Both Will and I ended up with very wet feet and pantlegs.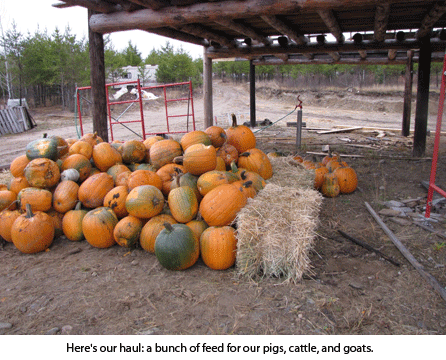 There was a farm auction that Will wanted to go to and it just happened to be on the way home. So we stopped there, too. We were already wet and so when it started raining, it really didn't matter much. It was fun there, too, and Will bought two round bale spears and older manure spreader that needs a lot of TLC. All was equipment we need badly. And Will's a handy guy, saving us a ton of cash!
We barely got home when Will called our friend, Eric, and we quickly unloaded pumpkins. Will and Eric hitched up our big flatbed equipment trailer and headed back to the auction. As there was no one living on the place, Will was afraid our newly purchased equipment might possibly "walk away." He didn't even take time to change into dry boots and socks!
I did chores and a few hours later, the guys were home and so was the equipment. This morning, he unloaded it and now all we have to do is to get it into working condition. The bale spears don't need much but the spreader needs a new floor and two tires — which Will already has. I love farm auctions! And getting pumpkins in the rain!