Winter brings new challenges to the homestead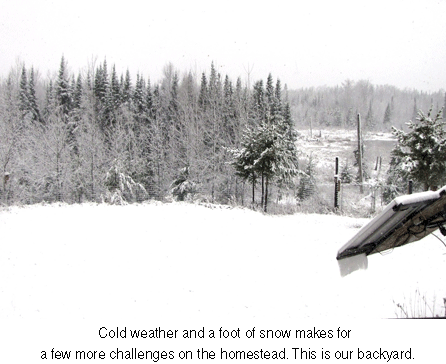 Although a foot of snow is beautiful here in the woods, the cold along with it brings new challenges. Our nighttime temperatures have been zero or below with the daytime temps only in the teens. Thus watering our abundant livestock gets to be a challenge. Will's fabulous wood fired stock heaters work great for keeping the ice out of the horses; cows; and yearling steers' water tanks. But we still don't have our water line buried all the way down to the barn, about 500 feet from the house. Luckily, Will installed roof-type heat tapes inside the 1½-inch black poly water line so we only have to deal with the hoses to and from that line. But if we aren't very careful to get them entirely drained after every use, they can freeze. And our big steers' water tank doesn't have a heater yet. We have to run about 200 feet of hose from our frost-free hydrant in the yard to their tank. With that much hose, we have frequent freezes. The only way to thaw that much hose is to drag it to the house and lay it out in the entryway and living room. I'm very thankful we don't have carpeting! But the hoses do thaw and we do get the critters all watered.
Some folks just let their animals eat snow in the winter. Yeah, they'll live. Usually. But the old farmers say, "water is your cheapest feed" and animals not only are much happier with drinking water but they stay in better shape over winter. So we drag hoses until we get the next steps toward easy homesteading completed. It takes a lot of time and is annoying and messy. But it costs nothing and when the animals come to get a drink I can see them smiling. Happy animals makes us homesteaders content. Even when dragging hoses at below zero!