The beavers were right, again.
This fall, I was asked what our beavers' actions told us about the coming winter. I replied that there should be cold temperatures and lots of snow. At first I thought they'd lied; we had little snow and quite a warm winter — to start with! Now we have nearly 3 feet of snow on the ground and the temps have regularly been down to -30 to -35 F with "highs" in the 0 to negative numbers during the daytime. I guess those beavers know what they're doing! Last night, it was again -29 and the high today is only 2 degrees above. I'm looking forward to the heat wave that's coming this week — 30 above!
Meanwhile, our sick California goats, Lady and Nellie, are doing very well in their little goat house of hay bales. They're eating great and not shivering. We're SO glad! We did lose one of our "old guy" horses two days ago. Arjet was in his twenties and looked it. But he was happy and part of our family. Luckily, he died in his sleep, peacefully. Will took him far out into the woods and buried him with snow until spring. We feel sad at this loss but saw it coming.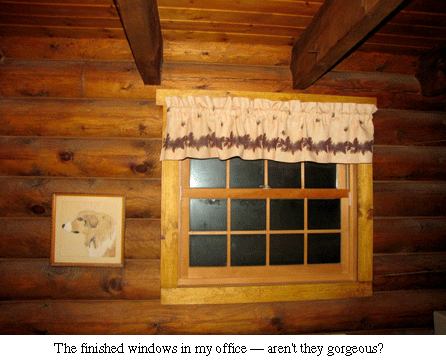 We've been working in the house because it's so cold. Will trimmed all of our windows in the log part of the house, which turned out to be quite a job due to knots in the wood. He had to chisel out the logs for the trim to fit the window frames. But last night, he finished the last one and boy do they look great! Now I have to clean up the mess we made moving things around to get at the windows with the saw and chisel. I think it's a great trade-off, though. The windows look SO nice! — Jackie