Just what we needed — more snow!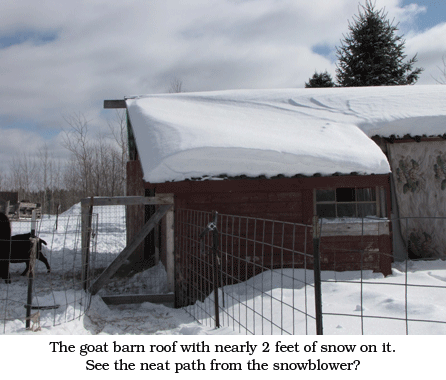 We were just starting to get some thawing days when we got clipped by another 8 inches of snowfall. Nice and wet snow, too. For awhile I thought it was snowing chickens…white chickens! But yesterday Will got the driveway and yard plowed and I used the snowblower to create paths to all the different animal pens and goat barn. Our previously-sick California goats liked it though, and were bouncing off the walls of the barn while bucking and playing in the fresh snow.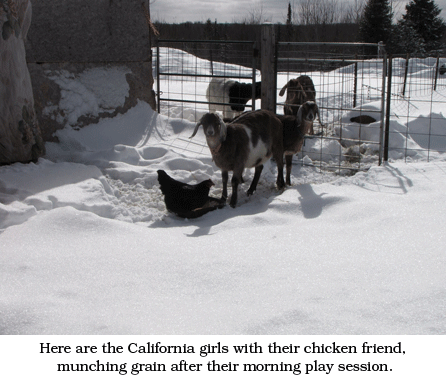 Today I've got a ham in the oven which I'll be canning after we eat what we want. I sure do love the convenience of all the jars of ham dices. I use them for so many recipes from ham salad to ham and scalloped potatoes, potato and ham soup (thick!), quiche, omelettes, and so much more.
Will's busy with our trusty dozer, Old Yeller, across the creek in our big woods. He's hauling in logs which blew down in the July wind storm. We'll be using some as rafters on our new front porch and sawing boards from many others. The only time he can get across the creek so far is during the winter. The bridge is kind of at a standstill until we can get some heavy-duty planks on it. Right now we can drive the four wheeler over, but nothing heavier than that.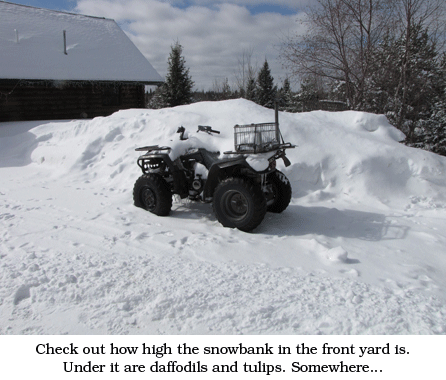 So while there's snow on the ground, Will's busy getting ready for sawing in the spring…which should only be a few weeks away. Usually by the second week in April, all the winter snow is gone. To tell the truth, I can't wait! I'm dying to dig in the dirt. — Jackie