The seed starting is gearing up, even in below zero temps
I've got all our pepper seeds started and am nearly done with the tomatoes. We had some old squash and pumpkin seeds, some of which were donated by a reader to whom I sent Hopi Pale Grey squash seeds. Since we are planning on a massive pumpkin/squash patch on the edge of the cleared section of our new 40 acres, I wanted to make sure those seeds, from 2003-2009, were still viable. (No sense in planting dead seeds!) So I picked out some seeds of each kind and put them into bowls with old washcloths, which I kept moist, and set them on the table next to the wood stove where our seed starting trays are. It's constantly warm and after a week, we started seeing little rootlets popping out of seeds. All in all, we had excellent germination; over 75%, so we're all set to go come spring.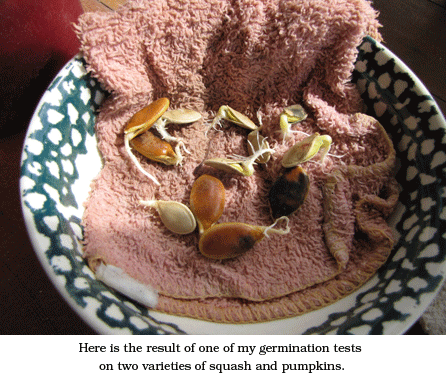 We plan on fencing the pumpkin patch minimally, hopefully enough to keep deer (which don't really eat pumpkin/squash vines or the fruit when it gets larger) and our horses and cattle out. We can water the plants, if needed, using our 350-gallon poly water tank, mounted in the bed of our pickup, by driving along next to the long narrow patch and watering. We'll see how that works.
We needed to sell our 2-year-old Red Wattle boar, Richard, because we kept two of his daughters, which will be bred in a couple of months to our other, unrelated boar. Since he is such a nice boar with a pet-personality, I was hoping someone would buy him who would give him a good home. I advertised him on Craigslist and in less than half an hour, we got a call. And it was our friends, John and Gerry, who had decided they wanted to go back into raising pigs after several years! Richard got the best home possible. Treats and scratching guaranteed! What a relief. Yes, we eat some of our livestock. But all of them get plenty of petting, good care, and love while we have them.
When we delivered Richard, Gerry gave me one of their emu eggs, which I'll blow out and give to our two youngest grandchildren, Mason and Ava, for Easter. Wow, is it HUGE! And such a pretty watermelon dark green, too.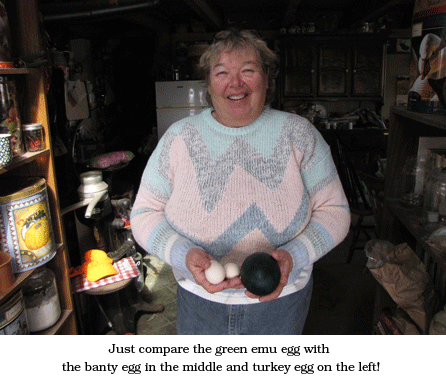 Just a note to those of you who are coming to our August seminar, Will was over to our friend Sam's yesterday and asked him if he'd consider bringing his Belgian workhorse team and wagon over to our place and giving a hayride during the seminar. He agreed. So the Saturday (unless it rains!) of our weenie roast, we will all get a an old-fashioned ride behind Sam's beautiful team. Isn't that great? By the way, we still have a few slots open for anyone who has been thinking of coming. Check out the link above on our seminar. — Jackie