Snow, snow, and more snow! Bah!
Okay, so it sounds like we're getting depressed. Got that right! After getting a foot of new snow a couple of days back, we're getting another foot right now. We got eight inches overnight and it's still snowing. Sigh. We've got nice green tomato and pepper plants in the little greenhouse in the living room, but even they look depressed because they look out on all that snow.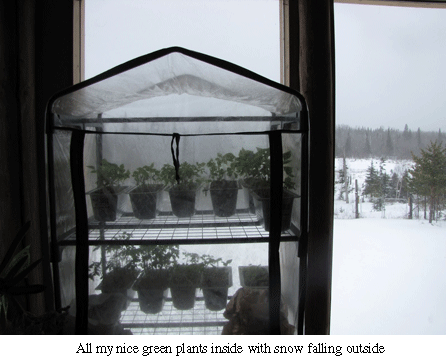 I've lived in Minnesota on and off for a total of about 30 years but this is the longest winter I can ever remember! At least we're not in drought now, so that's something we can be thankful for.
Because he can't work outside, Will brought in three wheelbarrow loads of rocks during our last thaw and is now starting in on the rock wall behind the wood stove in the living room. Right now it's framed and he has stapled plastic backing, used chicken wire as re-enforcing wire, and then screwed in long screws, wiring the chicken wire to the heads to hold the wire out from the plastic.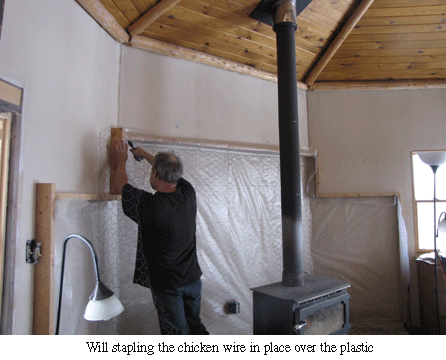 There are sorted rocks all over the floor and six bags of cement sitting in the dining room. Pretty soon he'll start in on the rock work. While that's in progress, I'll be transplanting all those tomato, pepper, and snapdragon plants into larger containers to sit in the big greenhouse windows. (Maybe, just maybe, spring will come eventually?) — Jackie