Will and Christian got the tomatoes planted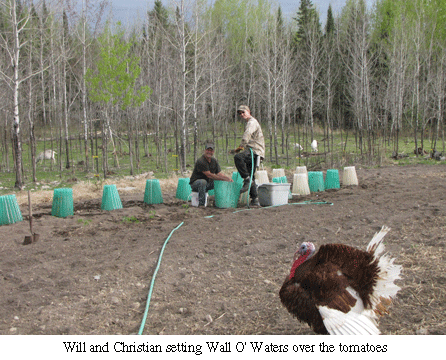 Last week, Will and Christian got all 52 tomatoes planted. Our big Bourbon Red tom turkey went down to "help." We trained Spencer not to go in the garden but the turkey's not so smart. Luckily, he didn't do any damage strutting and stomping around.
I went to the doctor two days ago and had X-rays of my knee. Turned out to be just inflammation and he gave me a cortisone shot and by the time I got home, it felt MUCH better. Today, it's about like normal. He said it should continue to heal up fine and told me to go ahead and do what I wanted; no restrictions on activity. Yahoo!
Our little young orchard is now in full bloom and several trees that have never bloomed are sporting blooms this year. We are so thrilled! We should have quite a few apples and cherries this year, God willing and the frost doesn't come!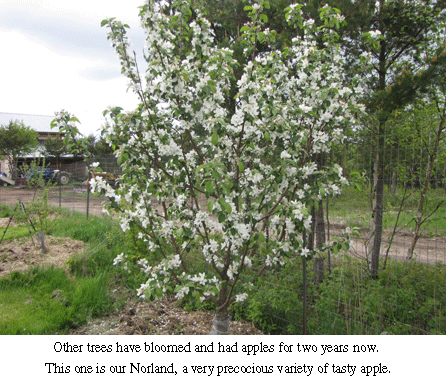 Right now, we're so busy we're about pulling hair. Will is working like mad, fencing more pasture for our big steers. We've got tons of grass along the creek so he enlarged their pasture so it follows the creek but doesn't allow them to get into the creek which could damage the bank. Spring was so late this year that everyone has about run out of hay, us included. So all the more pasture right away is essential.
BEAVER REPORT: Will said that the beavers have built up their dam another two feet. That usually means we'll have a hot, dry summer. But right now we've got too much rain, which holds up planting. We saw last year how quickly that can change though, so are doing all we can to get ready for a dry summer. One of these times, the beavers will be wrong, but we sure pay attention to them. — Jackie