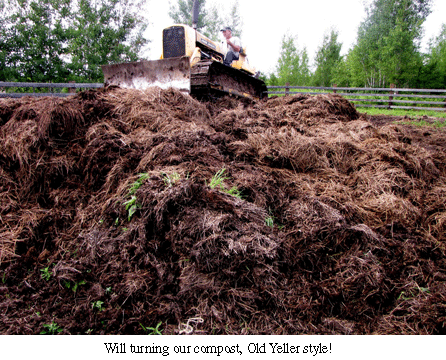 While most homesteaders have a compost pile, we have several. And some are pretty BIG! All winter we feed our horses and cattle big round bales of hay. For years we scattered the bales out here and there to avoid having big piles of manure. Then we got smart and began putting the bales in about the same area to SAVE the manure, mixed with rotted old hay. After all, we don't use commercial fertilizer on our gardens and pastures so why waste all this wonderful rotted compost?
Now we let it rot all spring and part of the summer after Will gathers it into huge piles with our trusty dozer, Old Yeller. It cooks and composts, then he turns it again and hauls it to wherever we need it, whether it be the garden, backyard, pasture, or orchard. Now he's hauling it onto our new pasture, way out back where he plans on plowing this fall to plant a new seeding. And the very best stuff is being thickly spread next to our pumpkin patch on the edge of the new pasture as our pumpkins didn't get enough fertilizer and are pretty small. This fall, he'll spread a few loads on that patch and next spring, we'll fence the whole works. Good idea but poor soil!
Meanwhile, I've been picking pin cherries, which are abundant on our ridge. They're small, tart cherries but make the very best jelly.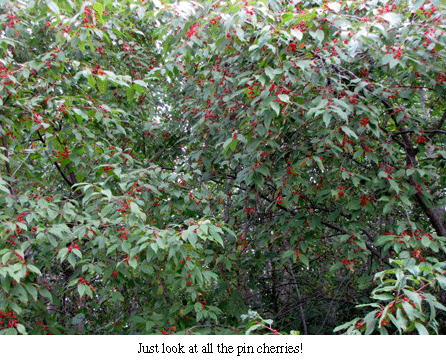 I've always done the "cooking-hanging in a jelly bag" thing to get my juice. But my friend, Jeri, has a Mehu Liisa, a stainless steel steam juicer and where I would get maybe three cups of juice out of a gallon of cherries, she would get half a gallon of juice using her Mehu Liisa.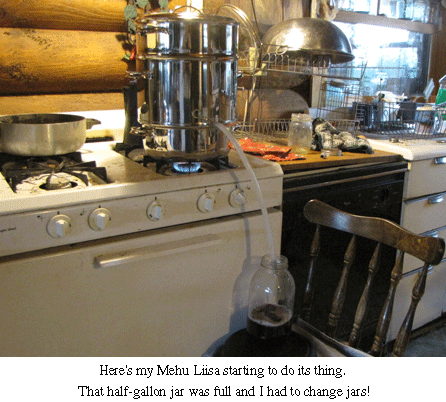 During our seminar last spring, the wonderful folks who attended got together and ordered ME a Mehu Liisa. Talk about thrilling! Now I've got cherries and last night, I tried my own Mehu Liisa. Oh my God! I put in about 3/4 of an ice cream pail of cherries and turned on the stove. By bedtime, about 6 hours later, I had more than half a gallon of juice! Just think of all the juice I was wasting before and how much work I had to do to get my puny amount — all those cherries and berries I had to pick! Now I'm gung ho! Pick. Pick. Must pick more! I'll be making jelly all afternoon then look out! — Jackie