Our fruit, both tame and wild is … well … running wild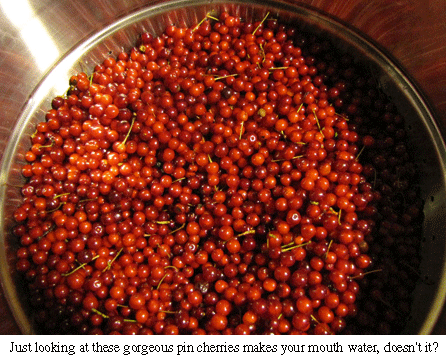 We are so tickled that we are getting plenty of fruit this summer. I've been making pin cherry jelly from our wild pin cherries. They are so RED and jewel-like that I love picking them. Yesterday, with my trusty Mehu Liisa steam juicer, I got a whole gallon of juice from a gallon of pin cherries. Now that doesn't seem possible, but it's true. Wow, am I impressed! What a wonderful invention that is!
And our orchard is doing great too. Our apple and cherry trees are loaded in spite of being young — not more than four years old (all standard varieties, too). The Norland apple is loaded for its second year. It's a tasty, crisp apple but doesn't store well so I'll be making plenty of applesauce and canned apples. Some of our trees that have never had apples for us to sample have fruit on them this year and we are so excited.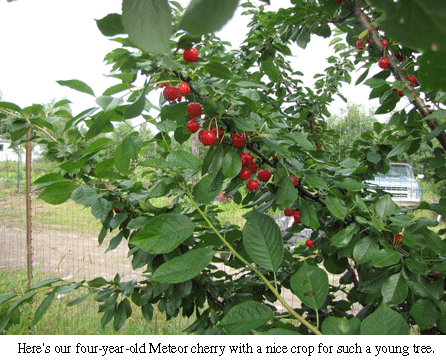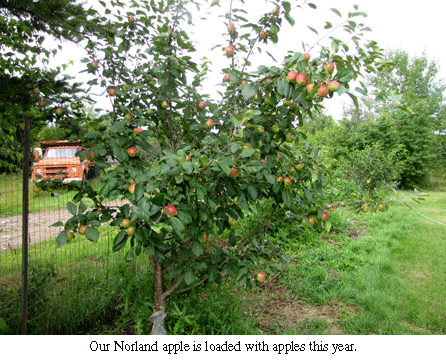 We still have six Manchurian apricots on our vigorous tree. I'm planting two more next spring to help it pollinate. Although self-pollinating, planting two or more ensures a much larger crop. And a big crop of apricots in Minnesota is a wonderful thing!
Just two weeks until our homesteading seminar and we are getting excited. These events are such an experience for us all. And for those who attended last year, it's like seeing family we haven't seen for a year. We can't wait! — Jackie