Our homesteading seminar is this week
And we're still homesteading! Will FINALLY got our big round baler working again after first a blown hydraulic hose (with a fitting that only New Holland makes — Will cut it off and retrofit it to work) and after only two bales, a blown big bar chain (that only New Holland makes repair pins for). It took a week and plenty of work as Will and our friend Eric had to replace a dozen and half pins/links that were worn and waiting to break. After fixing it, we were kind of scared to start baling again! But 20 bales later, Will is busy cutting hay today in the 90 degree heat.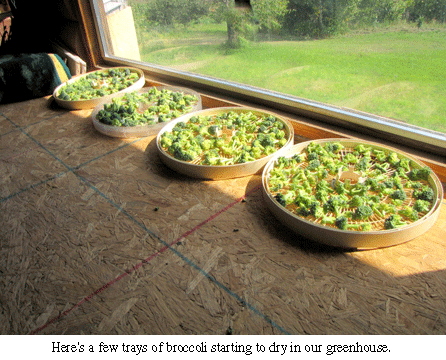 Meanwhile, I'm busy dehydrating our huge crop of broccoli. Honestly, the plants are better than waist high this year and the heads are the size of large dinner plates! Wow! It's dehydrating nicely and I have several heads done now with a new batch cut up and in the trays. I have an electric dehydrator, but living off grid, we only use it when we have the generator on as the draw on the batteries is significant. So I sit the trays in the greenhouse to start out then when the generator is on (to pump water, etc.) I stack them and use the dehydrator. It takes about 2 days and they're done crispy dry. So good in stews and soup during the winter! And dehydrated broccoli takes up so little space. Broccoli is one thing I don't can. Yucky!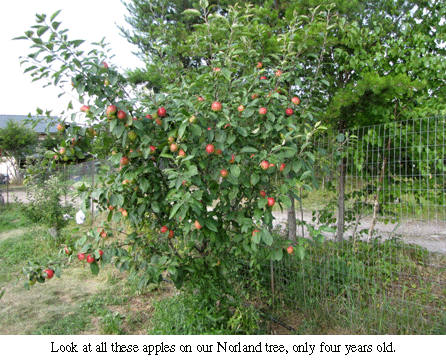 Our little Norland apple tree is just loaded and we're starting to eat the apples. Yesterday the wind blew hard and several fell off. I beat the chickens and turkeys to a dozen but they got a few. Today, I saw the turkeys standing in a circle under the tree, looking up. You could just see their pea brains thinking; "Hey, why aren't they falling off?" But it wasn't windy so they didn't. The Norland makes a crisp, juicy, slightly tart snack apple that we really love. And boy is it productive! — Jackie