We're making good use of a beautiful week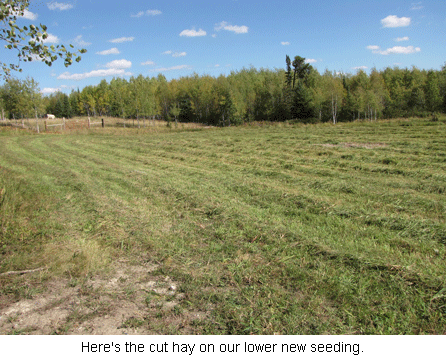 Our weather turned into a glorious Indian summer. Temperatures are in the high sixties and dry. Will made use of it by cutting the new seeding down below the goat pasture. Three years ago, it was a brushy wet area full of stumps and rotten logs. With Old Yeller's help Will cleared it off, then we disked it and seeded it in to birdsfoot trefoil, clover, and orchard grass. We used it for pasture for two years. Since we didn't have it well fenced, we didn't pasture it this summer as the cattle were on the new forty. So here was all that beautiful feed, just standing there. Hopefully, we'll be able to square bale it tomorrow. There are just a few acres, but whatever we get is all gravy and I'm sure our animals will love it.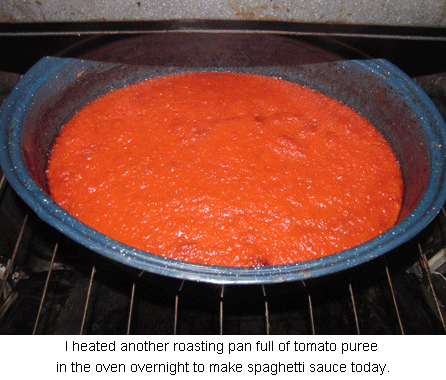 Meanwhile, I'm madly trying to get our harvest canned up. Yesterday it was spaghetti sauce and Hansen's bush cherry jelly. Today it's going to be more spaghetti sauce and carrots. Our carrots are getting so big that they ARE like 2x4s, which is their name. I did plant some Tendersweets and even they are very big. Then there are the onions to pull today so they can dry in the sunshine we are forecast for several days.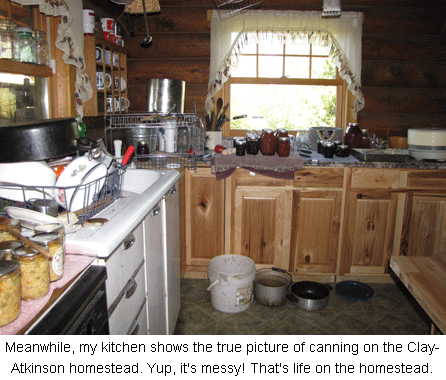 Today, Will's working on the front porch again, trying to get a roof on it before winter hits in October. He got it stained yesterday and today he's doing the final fitting and screwing it together with 10-inch log screws. I think it looks very nice!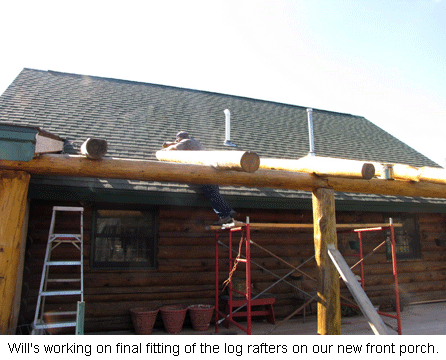 Saturday I'm speaking in Mt. Iron to the State Horticultural Society about self-reliant gardening and Sunday we're hosting a potluck for local homesteaders.
I never did get my flower beds all weeded and cleaned out but oh well, maybe next spring. You NEVER get all you "need" to get done, but you just keep pecking away at it. That's life. — Jackie