After two months with a frozen water line, we have water!
But our water line is still frozen. How can that be? My inventive husband saw that our spring catchment basin was nearly unfrozen and the water was pristine. Hmmmm. So he had me haul hoses and he connected up our irrigation pump to the intake pipe in the basin. The far end of the hose went into our basement storage tanks. A few pulls on the starter rope and we were in business. We did add bleach to our storage tanks … just to be safe. (I'm still hauling drinking/cooking water from the Idington spring.)
However, we were nearly out of propane after ordering and prepaying for it over a week ago. We dearly wanted a long, hot shower after minimal battery-operated showers and "bird-baths." I wondered out loud if we couldn't hook one of our 20# LP tanks to the water heater. Will took it from there and did just that! We each had a wonderful long, hot shower! Ahhhh. Less trips to the spring and being able to flush the toilet more normally. Hooray!
And now we have 600 gallons of spring water in our storage tanks with the ability to refill them on above freezing days. Wow! Waiting for the water line to thaw isn't so important now.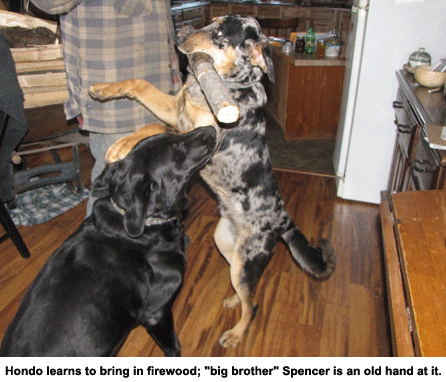 We've hit another cold spell with highs in the high twenties and low low thirties so we're still burning wood in the living room and kitchen. (With scarcely any propane, I'm cooking on the wood stove.) Hauling wood in is still a pretty much daily chore. Spencer helps by carrying in wood and lately, Will has gotten Hondo to bring in wood too. Both dogs are so proud to carry "their" own wood in, bouncing and dancing around us for praise. Spencer even drops his in the wood box. — Jackie