It was sixty degrees and sunny for Easter
All we could think was … FINALLY! My sons, Bill (and his family) and David, were here for Easter dinner and we all ate too much. Then we sat out on our new front porch and enjoyed the warm day. After hiking around the place showing all of the new improvements to Bill and Kelly, we again hit the porch visiting and watching David and grandchildren, Ava and Mason, roll balls back and forth on the ramp and blowing bubbles that carried away in the breeze. With all of the gadget toys, it seems like today's kids still love balls and bubbles.
Will's busy digging under our addition, preparing to enclose the base with cement and rock, using slip form construction. This will be like the front porch with the rock work just adding a decorative and moderately supportive touch under the walls of our pole-built addition, keeping the brutal winter winds out. Today he's digging out for footings, carefully saving all large rocks he runs across to add in the walls. He also installed extra insulation board under the floor and is getting ready to lay down a vapor barrier on the soil, raking the area smooth. This will keep any vapor from the ground from transferring to the floor joists of the addition, eventually rotting and weakening them.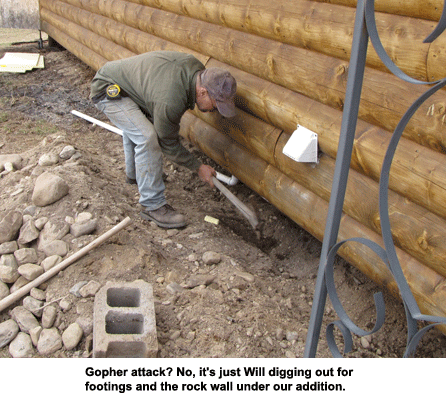 Saturday, he dug out next to the foundation on the walk-out, south side of our house and installed two-inch insulation board all the way up to the sill plate with pressure-treated plywood over that. We just have a few more feet of basement wall left to go and the basement will be warmer in the winter. That means less firewood needed to keep the house warmer! Even this last winter, which was the coldest overall on record (90 days straight below zero!), our unheated basement never got below 40 degrees. And our potatoes are solid and juicy as can be with no sprouting, as are our onions. Perfect!
I'm still waiting for hummingbirds and Baltimore Orioles. I added new orange halves to the Oriole feeder — just in case. I don't want to miss those beautiful birds! I've got to rake the now-snow-free front yard. We have plenty of doggie "mines" out there. Yuck! But after I get that done, I'm off to can ham. I got two hams on sale for .88 a pound plus the one we had for Easter. That translates into half pints of ham dices, pints of ham chunks, and lots of bean soup and baked beans with ham to be canned up shortly. Mmmmmmm.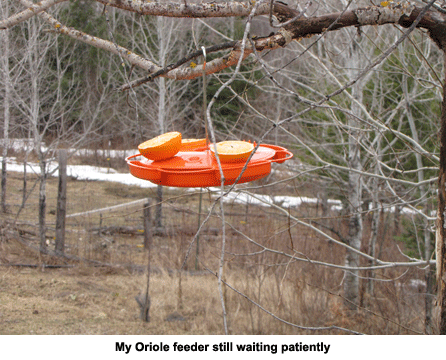 Just a note: We still have several spaces left for our June homesteading seminar so if you'd like to come, we do have room. Click on the box above for complete information. We'd love to have you join us! — Jackie