We just dodged a terrific storm
It's been very hot and muggy and I told Will we were primed for a bad storm. So when the weather radio called for thunderstorms Monday night we weren't surprised. In fact, we were pretty happy to see lightning on the Western horizon that night as it was 85 degrees with extreme humidity (and being off grid we sure don't have an air conditioner). Well, it finally rained around 11:30 p.m. and it did cool off.
But it wasn't until yesterday that we heard how severe the storm front was to the North and South of us, with straight line winds more than 75 mph and inches of rain. Campers in the Boundary Waters Canoe Area Wilderness had been pinned under big fallen pines, others injured. And many folks on the Iron Range, just south of us had trees blown down on their houses and garages or roofs torn off, etc. We feel very grateful we escaped this part of the storm and are praying for those affected. More than 15,000 people were without power as well but, of course, we never noticed.
The garden continues to astound us. I'll be canning green beans in a couple days and have hundreds of inch-long Homemade Pickle cucumbers set on rampant vines. And this year, our dill is amazing. (I've even had to buy wilted, old store-bought dill on some other years — for $3.49 a bunch.)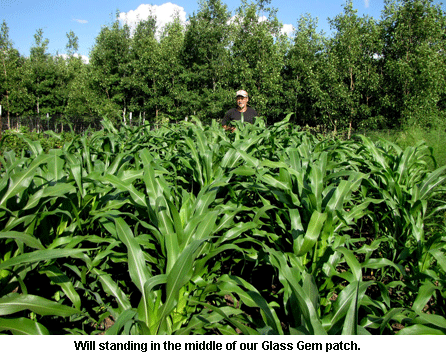 But the star of our gardens this year is the Glass Gem popcorn. We planted it for its beauty but the plants are stupendous. They are near shoulder-high to Will and me and each plant has stooled out, having more than five lusty stalks per plant. We can't wait to see how it turns out and how many ears we get per plant. Usually popcorn has shorter plants but Glass Gem hasn't even thought of tasseling out at shoulder-height! Our Espresso sweet corn is tasseling out down in our main garden but not our Glass Gem. Wow!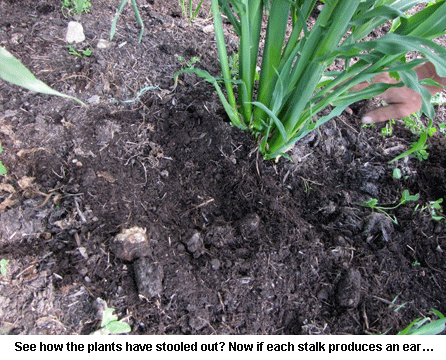 We are still working at mulching our main garden; it takes a lot of work and hay to mulch an acre! But we work on it every day and it is looking good. My cold seems to have left me but I am still waiting awhile before I call my surgeon's office to reschedule my gallbladder surgery. I do not want to have to postpone it again! — Jackie