Food time at Jackie and Will's homestead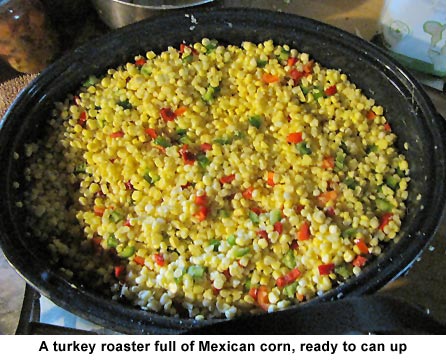 It just dawned on me this morning — our entire homestead is about food right now! Will is hauling in the last of our round bales of hay for the animals. We are madly harvesting the last of our corn before it becomes too starchy to eat and can (right now I'm canning some of Will's wonderful Seneca Sunrise open pollinated sweet corn). Every day I'm canning something or somethings. Yesterday it was Mexican corn, which is a mixture of sweet corn, onions, and red and green sweet peppers and more enchilada sauce. I'm bringing in baskets of different varieties of tomatoes to harvest the seeds from each day.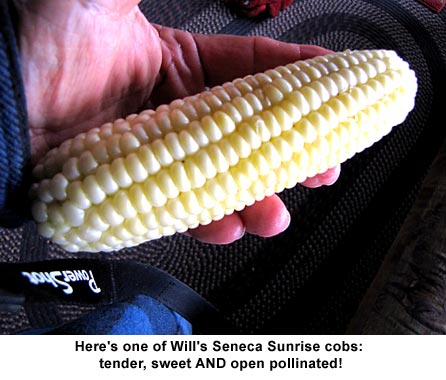 The dried seeds are accumulating slowly, drying on ice cream bucket lids marked with each variety. On the front porch, I have set up a bench and chairs so I can work outside on nice days. It's a lot easier to wash away the tomato juice and dropped seeds from the porch deck than from my living room floor!
I have two dehydrators set up in the dining room and they are full of broccoli. Yesterday I harvested the first Winter Luxury pumpkin for seed saving. Boy, is it wonderful. It has glowing yellow flesh two inches thick. Today I'm baking it whole, after taking a bounty of seeds. Then I'll make it into a pumpkin pie. They have the reputation for being the very best pie pumpkin in the world. We'll see; Will and I really like our pumpkin pie made from Hopi Pale Grey squash.
When I get off the computer, I'm pulling all of our onions so they can dry before being brought in to store. And there's three big rows of nice fat carrots plus potatoes to harvest. Mmmmm. Food. Food. Food!
NOTICE: ALL OF THE WILD PLUM PITS HAVE BEEN SOLD. We had no idea that so many folks would want them! Next crop we'll harvest many more. I'm so sorry for those who got disappointed and I'll substitute with another pack of one of our favorite crops.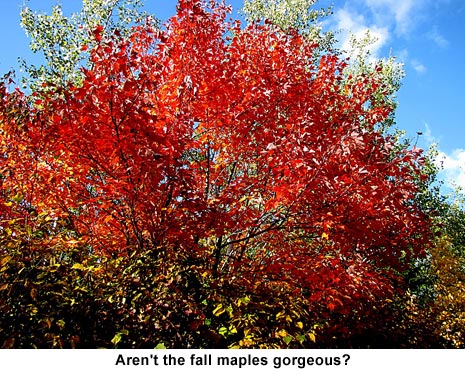 Our fall colors are simply gorgeous right now. I never realized how many maples have come up on our land until this fall as they're turning color! In a few years our driveway will be flaming reds and oranges, come fall. But we cringe as we know full well that it's only a few weeks until the pretty leaves have fallen and that white stuff starts. Stack that wood, Will! — Jackie