So far we've had an on-and-off-again winter
Our temps started out real cold; down to -25 and windy. Brrr. But lately we've been having much more moderate temps and we're maybe going to hit 40 above this weekend. Translated, that means we're getting more done around here because we can stand to work outside.
Will's been cutting more lumber on the sawmill. He has almost enough to frame the top walls on the whole barn. (He has two sections finished now.) We've been using some of the slab wood every day for firewood as the temperatures have been so warm we don't need the wood to last a long time in the stove. Waste not, want not! As Will cuts it so carefully, we don't have building-quality slabs but they're thick on the butt end and run out to thin on the top. But it does make nice (free) firewood.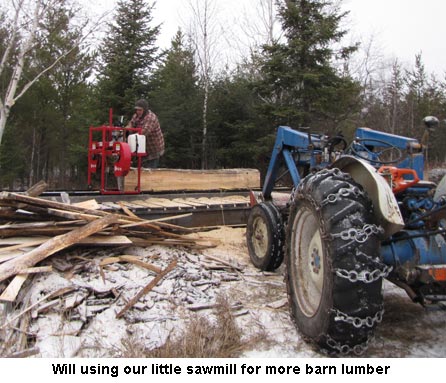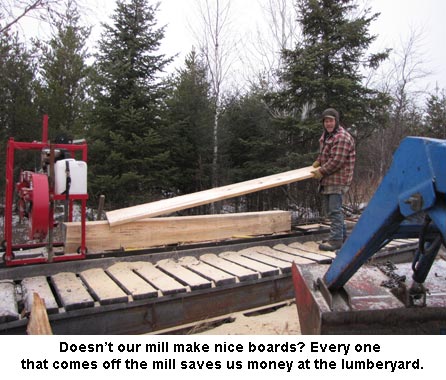 Meanwhile, because I sure don't feel up to helping him yet (I'm still kind of weak from the diverticulitis, which seems to have left), I boned our Thanksgiving turkey, cut it up, and boiled the carcass. Then I canned it up. It ended up to be nine pints and a quart of broth. One jar didn't seal so I made turkey and potato chowder from it — a pint of turkey with broth, diced potatoes, carrots, and onions. Boy, was that good!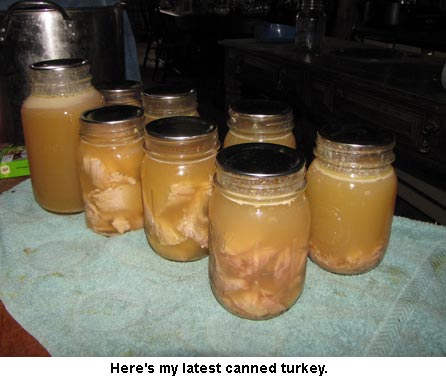 Well, we've got to go set out round bales so I'll see you soon! — Jackie