My oldest son, Bill, and his family were going to take a mini-vacation at a Wisconsin Dells Waterpark so they needed someone to dog-sit. As Buddy, an 8 month old chocolate Lab, had been up to visit us ever since he was a puppy, we volunteered. He and Hondo are buddies and play with each other to exhaustion.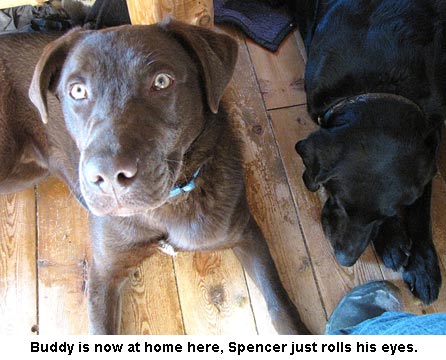 We brought Buddy home with us after attending our granddaughter, Ava's, third birthday party. Hondo thought it was GREAT! It took them 36 hours before they would just sit down quietly! Now they've settled into a routine: go outside to play and chew bones, then come in to rest. At night, Buddy goes into Hondo's "house" (dog crate) and sleeps all night like a champ. Spencer just rolls his eyes at him.
Our big Bourbon Red tom turkey does NOT like Hondo. Hondo tries to play with him and he runs right after him, all around the yard. Buddy had never seen a turkey and when he went over to sniff him, Big Red pecked him hard on the nose. Buddy does NOT sniff turkeys anymore! I had to laugh; I came home from town and two dogs and the turkey came running up to the car. Will says the turkey wasn't greeting me but chasing Hondo. He's real serious about running Hondo around!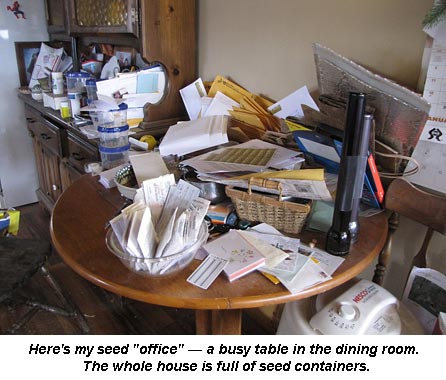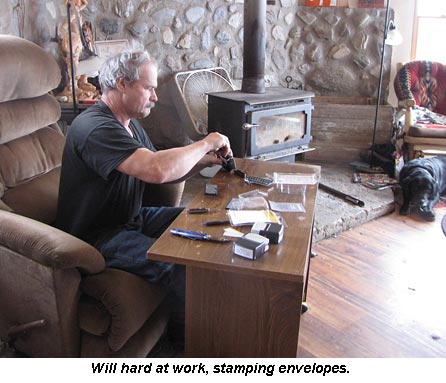 We've been busy packing seeds. Will is doing the stamping of the envelopes (we're not a BIG enough company to be able to afford "real" printing), while I fill the orders and package them to mail. Our "office" is two tables. Mine is, by far, the messiest! But we're having a ball. A lot of folks write a short letter and even send photos. That's wonderful! — Jackie