Mittens "helps" Will stamp our seed envelopes
Our cat, Mittens LOVES to knock small things off tables and shelves. She even tears open plastic bags and carries screws around in her mouth. (Never had a cat do that before!) We bought a hand stamp with tiny letters to stamp our seed envelopes. So when Will was changing these tiny letters, Mittens thought it would be wonderful to toss them off the table and onto the rug where we can't find them. She even picked up the tweezers he was setting them with and shoved that off. It was so funny we couldn't help laughing. She was crazy about it, going from one thing to the other while we played catch it before it hit the floor. Sure, we could pay to have the envelopes printed, but then we'd have to charge more for seeds, which we don't want to do. So, Mittens, it looks like you'll have fun for years!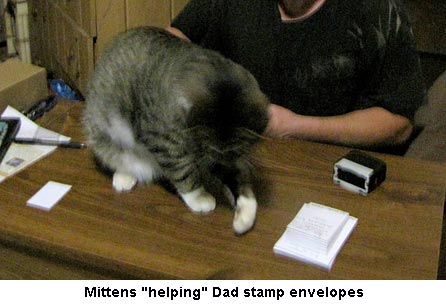 By the way, those of you who have homestead businesses, check out the Uline Company. They have tons of different boxes, bottles, envelopes, packing material, etc. at a very reasonable price. So if you're shipping wine, cupcakes, paintings or prints, seeds, beads or whatever, get a catalog. Great source.
Will put up another kitchen cabinet. We only have the three to hang and we're done! Now if we could only get enough time to do it!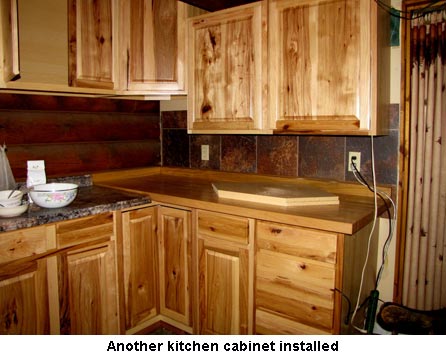 Yesterday my adopted son, Javid, moved from Eveleth to Orr, about 30 miles north of us where he can have a private apartment with handicapped accessibility. Great. But first thing this morning, the nurse called, getting me out of bed, to say that Javid's medical air mattress was leaking air. Panic! She said I had to do something NOW. So we grabbed a regular mattress off a twin bed and tore to Orr. I took the bedding off the now-flat bed and Will took a look, hoping he could fix it. The air plug in the mattress had come unplugged, letting out the air. So hard to discover since it had a bright yellow rubber handle on it for emergency CPR, that would deflate the bed instantly when pulled. Will plugged in the plug, the pump pumped it back up and ta-da: FIXED.
I talked to the publisher of my Western novels about an early release date and how to figure a way to do autographed copies. And that's before chores! You ever get one of "those" days? I'm sure I'm not alone. — Jackie