We have been busy with more planting
Krystal and I planted three rows of Howden pumpkins (C. pepo) and two rows of Atlantic Giant pumpkins (C. maxima) in the old pig pasture. Then we went out in the new "garden" and planted three 250-foot rows of assorted pumpkins and squash that we are not going to keep seed from — sort of a trial patch to see what we like and how well it grows (and tastes).
We had a couple of cold days with frost warnings. One night was so cold that we closed up the big hoop house where we planted our peppers, and lit the propane heater — just in case. It turns out that it didn't freeze here but our friends two miles away had 27 degrees on their deck!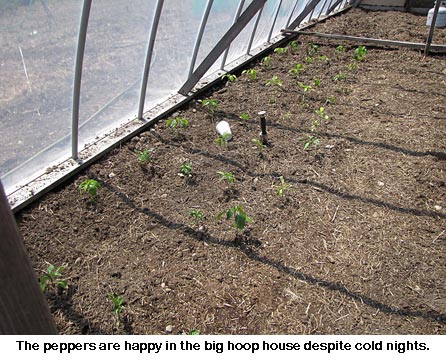 This morning, we all hit the garden and got two long rows of tomatoes set safely in their Wall O' Waters. Not only do these protect against freezing but also against strong winds which damage tender plants. As I write, Will and Krystal are setting out to plant two varieties of corn in our old pig pasture, between the pumpkin varieties. One is Will's own Seneca Sunrise (a 75 day sweet corn) and the other is Glen Drowns' Yukon Supreme, which he's had mature in 45 days! We're anxious to give it a try.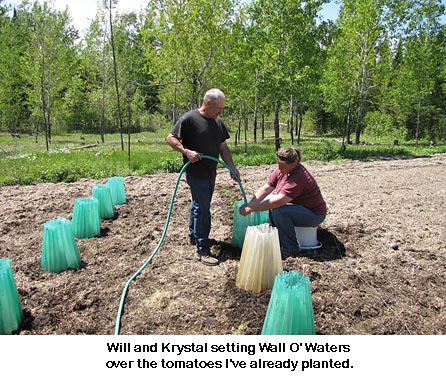 Some of our goats are kidding and some are getting very close. Ghost had a single doeling that's mostly white with a beige head and neck that we named Demi. Willow has such a huge udder that we think it'll pop! She is a gallon milker but gee…We've been thinking for days now that surely she will drop those kids within an hour. Maybe today? — Jackie