When the weather's perfect…
You get a lot done. We've been having nice warm daytime temperatures and last night we had a good soaking rain. It makes seeds germinate quickly and pop up strongly. You can hear our pumpkins and squash growing!
Yesterday morning there were white pelicans on our beaver pond. You don't usually think of pelicans in Northern Minnesota but we have quite a few. In fact, just a few miles north of us is Pelican Lake, a huge body of water that the pelicans enjoy. I think they are so graceful, soaring in flocks, way up in the sky, before they land. And on the water, they look like swans, all except that pouched bill. They like to swim and fish for minnows on our pond and we enjoy watching them.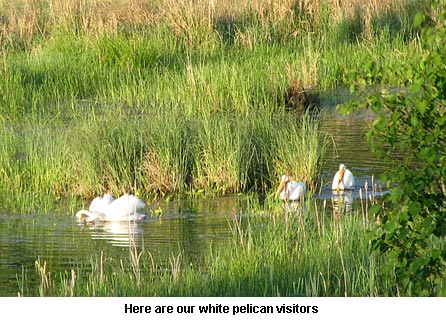 I've been planting up the rest of the land Will tilled on our new forty acres with the tractor-mounted tiller. He said he's "all done planting corn!" It was pretty brutal when he and Krystal hand-planted the big patch that they did in the muck. But I can't stand to waste tilled ground so I've been planting more pumpkins between varieties of beans. So far I've planted Cherokee Trail of Tears and I've got Hopi String and Tongue of Fire to go. Then we'll see how much land is left…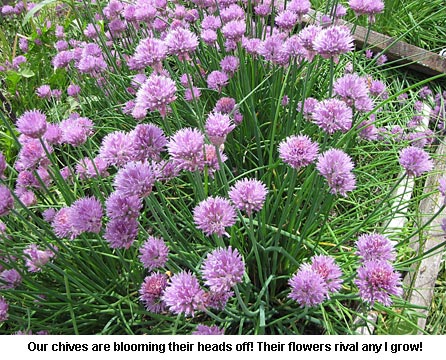 My favorite rose is blooming near the kitchen garden gate. It's the old "Yellow Rose of Texas", which is both hardy and beautiful. Pioneers often carried it West to remind them of home. I've always had a yellow rose by my house, no matter where we happened to be, so I really understand how it could be a symbol of "home."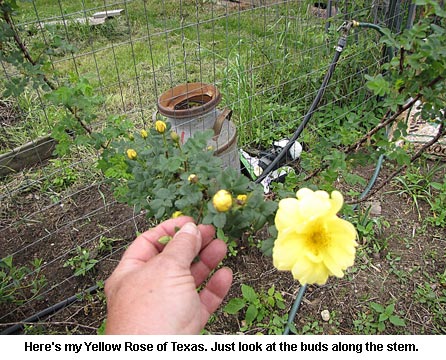 We're still searching for a used laptop or tablet for my handicapped son, Javid, so he can be online while being forced to lie down to ensure his pressure sore continues to heal. — Jackie