We had to bid our wonderful apprentice, Krystal, goodbye
We took Krystal to the airport yesterday morning as her apprenticeship had ended. She continues on with college in a couple of weeks and needs to get her ducks in a row before then. Her cheerful presence will be sorely missed by Will and me, and also by Hondo, who loved to sit on her lap.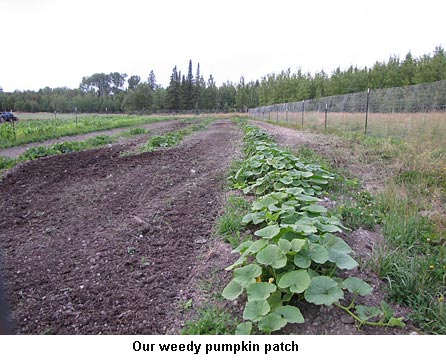 Yesterday, Will round-baled a dozen bales of hay then he brought our little Ford 660 home to till the weeds on our pumpkin/corn patch. As it was SO wet this spring, large spots never got planted so he tilled it and when we get a chance, he'll haul loads of manure out to spread and till under on those fallow areas. The patch is kind of spotty and late but it is coming so we'll see how things end up. But now it's fenced and more fertile than last year and next year it will be even more fertile with the addition of Mo Poo Poo.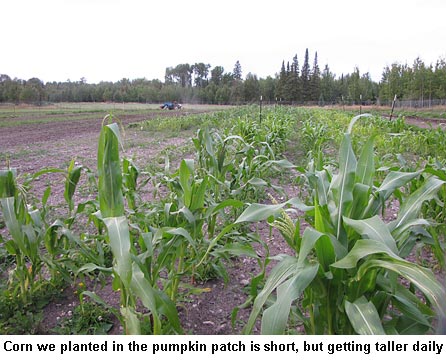 Today Will went out to till the ditch bank between our little clover field and the new oat field. Went fine, too, until he got down to toss some pieces of wood off the path. It seems like there was a yellowjacket nest under the wood! He got stung about five times before he could get away. And he is extremely sensitive to bee stings! He quickly came back to the house and located his EpiPen.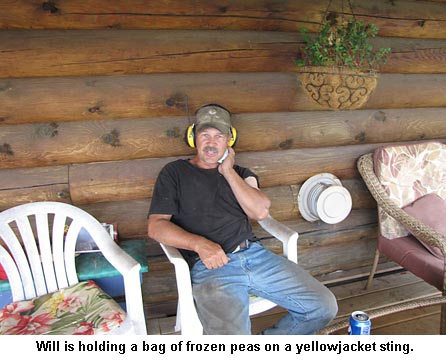 So far, frozen peas on the stings, antihistamine, and some aloe on the stings has prevented any extreme complications…like not being able to breathe. It seems like each year he is getting less sensitive to the stings. Before, any bee or hornet sting would end up with an injection and trip to the emergency room. We're very thankful things are seeming much better now.
The garden is doing terrific. I've got another batch of Provider bush beans to can up and a bushel (well, probably not that many!) of jalapeños to make into Cowboy Candy, a candied jalapeño that we both totally love.
Onward! Life is good. — Jackie