Did you see the red full moon?
Because of the smoke from the western fires, both our sun and moon have been red. It was sure stunning when the full moon came up. I couldn't resist a photo.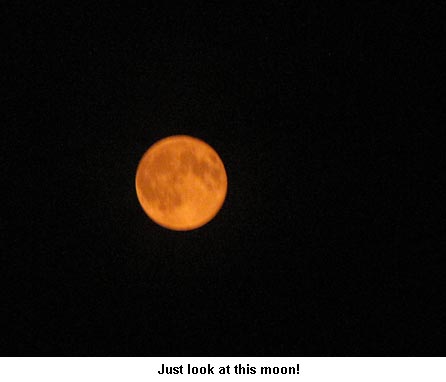 Our Dragon Tongue beans have started ripening and I picked another big basket of them on Friday. I have the whole countertop full of pints of canned beans. We sure love them. Unfortunately, they lose their pretty purple stripes when boiled but they taste wonderful. Years ago, I canned some and when we ate them, they were awesome — very sweet and tender with a beany flavor, but it took years to figure out what variety they were. I tried canning Yellow Roma, and others, but they weren't as good. Then after I again planted and canned Dragon Tongue, I found they were the ones I'd been looking for! I won't make that mistake again.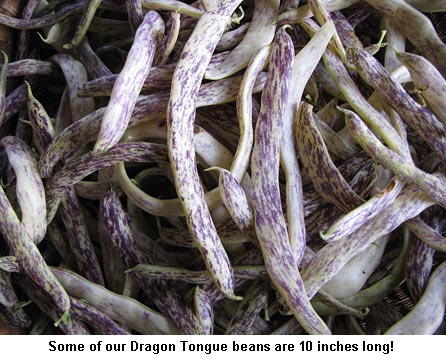 Will has been busy plowing. He finished plowing the neighbor's first hayfield, which was getting sod-bound and producing pretty thin hay. But when he was nearly done, POW, a rear tractor tire split. Now, those big tractor tires are expensive! He called around, looking for a decent used one. Finally he did find one, down by my oldest son, Bill's. So we went to Tietz Implement yesterday and picked up a tire. I helped Will get it on the tractor this morning and it's finally standing on four wheels again. Whew!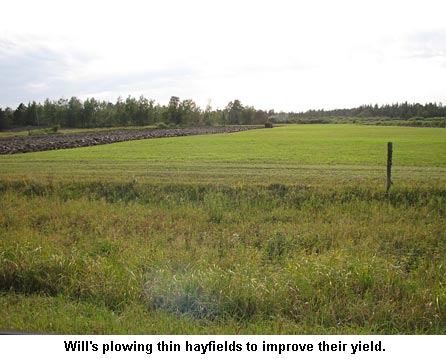 We have our last hayfield cut and as I'm writing, Will's raking it in preparation for baling this afternoon. It'll be good to be done haying.
I just thought I'd let you in on something. For years, we've bought our hardy fruit trees from St. Lawrence Nurseries in Potsdam, NY. Unfortunately, owners Bill and Diana MacKentley are retiring and there was no one to take over the business. We were sad, to put it mildly. But … a young man who worked for them for years decided to go ahead and take over the business and keep it running. To support his new endeavor financially, he is ONLY taking orders for apples and Evans Bali cherries until October 30th. If you'd like a catalog, you can order from St. Lawrence Nurseries, PO Box 957, Potsdam, NY 13676 or call (315) 261-1925. We're ordering more trees and strongly recommend their company if you want very hardy fruit trees. — Jackie