We're madly harvesting tomato seeds
We've had really nice fall weather, sunny and warm. So to take advantage of it, I've been harvesting tomato seeds every day. Saturday, Will's step-mom and her friend Janann stopped by on their trip from Washington to Michigan and I got some fine extra help. We had a great, although way too short, visit. When they were getting ready to leave Sunday, my oldest son, Bill, and his family drove in. Bill and Kelly were coming to get extra tomatoes so Kelly and her mom could can up a big bunch. So we had another great day of visiting! The grandkids, Mason and Ava, were really happy to help harvest and they each got to pick out a pumpkin from our pumpkin patch to take home and carve.
To top that off, on Monday, a couple of gals from the Cities drove up for a visit. They'd been to two of our seminars and were on a vacation up north. So we had another great day! Wow. What fun!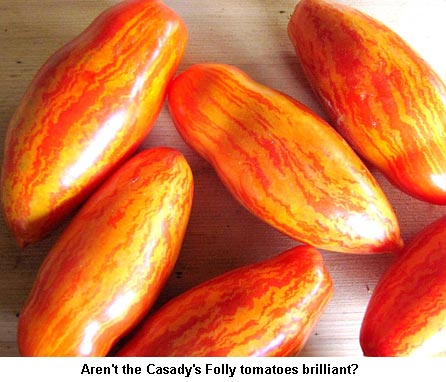 But today it's back to business. Will's hauling our last round bales home and I'm seeding tomatoes on the front porch. Again. But even that's fun as we've grown so many different tomatoes this year. Two we really like are Casady's Folly and Berkeley Pink Tie Dye. Casady's Folly is a brilliant red and gold striped elongated paste tomato that knocks your eyes out on the vine. Luckily, it also is very meaty and tastes good too. Berkeley Pink Tie Dye is a reddish purple, shot with copper and green stripes. A larger tomato, it's also meaty and tasty.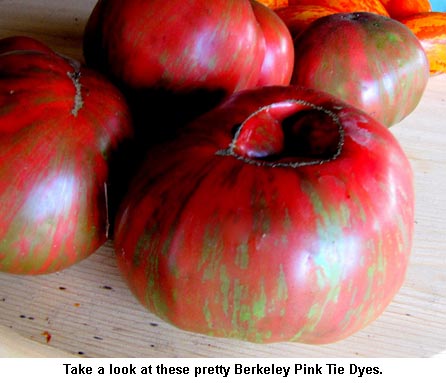 We're supposed to get some rain, so we're trying to get as much done today as we can so we don't have to work in cold drizzle. Winter is coming. (But our wood shed is full to the top.) — Jackie