We got quite a snowfall, but it won't last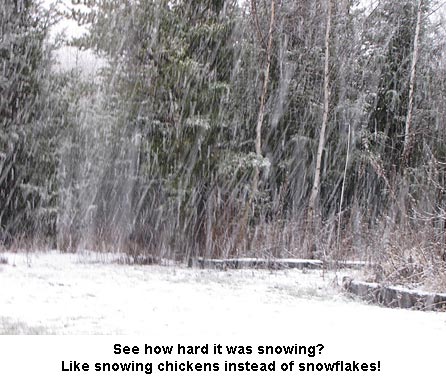 A few days ago we got hammered with about five inches of new, very heavy snow. For a while, you could hardly see the woods around us. We knew it was coming but by listening to our daily weather radio report, we know it won't last as the temperatures are climbing into the high thirties and even low forties in the near future. We didn't even plow the driveway. The ground underneath the snow has been very muddy due to the rain and hunters driving in and out of the mile-long drive to deer stands in the state forest and even though it is frozen now, plowing would dig up dirt we want to stay on our drive. I drove out with no trouble in our Subaru yesterday morning and a lot melted after that. So we'll just wait it out.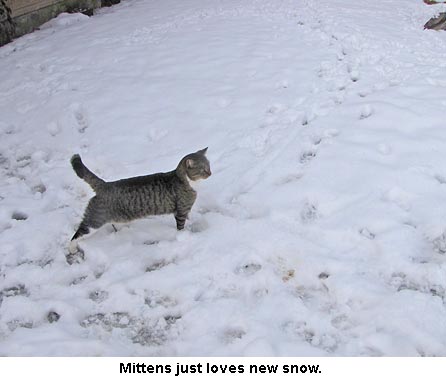 Mittens just loves new snow. I've never had a cat like her. She digs her head right under the snow, running all over the yard. Then she pounces on pretend mice in the snow and runs around with her tail up.
Meanwhile, the thin steers Will bought cheap at the auction barn are eating and drinking and doing pretty well. One is still coughing and has a snotty nose so I'm keeping on with the antibiotic shots every day.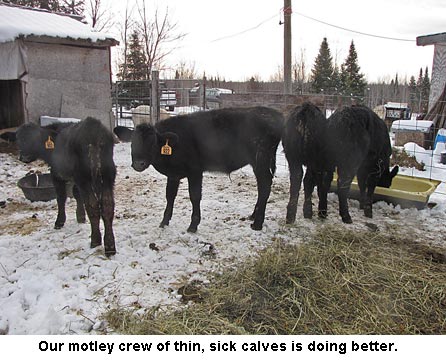 We were excited when the first of December arrived as that was the release date for my third book in the Jess Hazzard series of Westerns, Winter of the Wolves. I've got to get my box ordered! For any of you who are interested, click on the publisher's box above the blog to learn more or order a book, available both in print and Kindle.
Will's continuing work on insulating our enclosed back porch. It's already MUCH warmer. I love insulation! And I'm slowly updating our Seed Treasures mini-seed business' website, www.seedtreasures.com, as we're offering a whole lot more good, productive, open pollinated seeds that we grow on our homestead. If you haven't checked out the website lately, give it a click. You'll be happily surprised! — Jackie