Hey, it's not all work and no play
Yesterday, we drove down to Bill and Kelly's for our granddaughter Ava's fourth birthday party. We had been a little nervous as they were calling for a quarter of an inch of ice from freezing rain. Not good for a 110-mile drive! But the storm flew through faster and we didn't get it. And Saturday the temperature was 36 degrees ABOVE zero! Sunday it got to 40. The roads were dry and we sailed down with no trouble at all.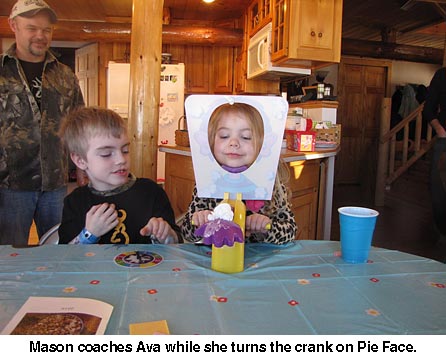 The highlight of Ava's party was playing a game called Pie Face where you have a spring-loaded hand filled with whipped cream, put your face into an oval, and spin a spinner to see how many times you have to turn the crank. The pie-throwing arm could go off at any time. It's sort of like Russian Roulette, only tastier. Of course everyone had to get a turn at getting "creamed," even Will. But darn, he escaped unscathed!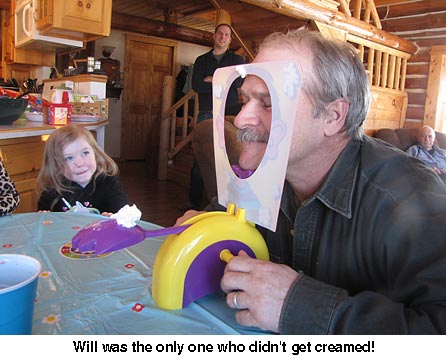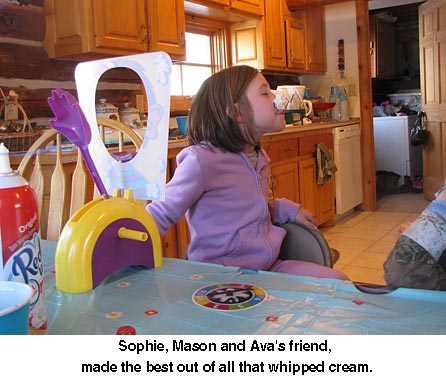 Today we're making our final decision about what varieties of vegetables we're going to plant in the big gardens. When you save so many seeds, it's a bit complicated. To make things easier, Will has hauled one of the our old two-point corn planters up to the storage building. He's going to make a three-point corn planter from a pull type so we can more easily get to the fences and turn in the gardens. This will also plant our beans so, hopefully, we won't have to do it all by hand this spring.
Poor Hondo! He misses Buddy, who went home to his family yesterday. They wrestled and chewed on each other for the entire three weeks Buddy was here. Bill couldn't come get him as his father-in-law, Donny, was in the hospital and he had to help out there, plus working too. Spencer isn't so much fun as he's older and doesn't like to wrestle. (But he still plays with his "babies", the box full of stuffed animals we have for the dogs.) — Jackie