Everyone's enjoying the sun
I noticed our "wild" roosters (the ones who refuse to live in the chicken coop) sitting out in the sun in front of the storage barn on hay piled there. They were taking full advantage of the warm sun on a single digit day. So pretty! Especially the one crossbred rooster my son, Bill, brought up.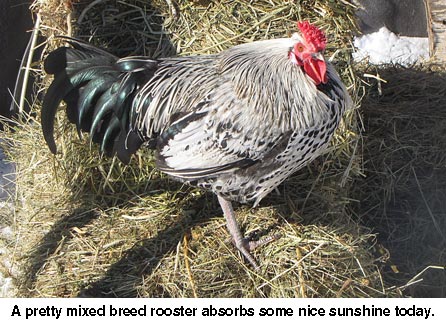 I don't know if you know it, but I'm a daylily lover. And I've been poring through my latest Gilbert H. Wild & Son catalog, marking a few I want to buy this year. I was real disappointed with the results I got from Roots & Rhizomes last year; I ordered a dozen different ones and only got a few of the more common ones. Gilbert H. Wild & Sons has never done that. Guess who gets more of my money this year?
We recently got the Gurney's "half off" catalog, threatening us with it being the "last" catalog if we didn't order. In the "olden" days, this was a great company. As a three-year-old, I can still remember Mom and Grandma ordering from the catalog and putting in my own penny for my own mixed pack of seeds. Then the company got bought out. The catalog choices are limited, the merchandise is overpriced, and, in my opinion, the quality isn't up to par. The shipping costs are high and eat up some of your "savings." There are better companies to order from. — Jackie