Our first petunias are up
Hooray! I planted them on Sunday — that was fast! I really like the way we're doing the planting these days, keeping them next to the wood stove up on a shelf and covering the containers with plastic bags. It makes a huge difference in the germination rate. And it looks like every seed has germinated, too. Now we're anxiously waiting for the peppers. Maybe tomorrow we'll see some.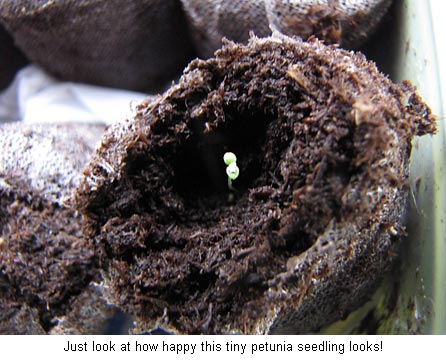 Speaking of tomorrow, I'll be having an unpleasant procedure — colonoscopy and upper GI. For sure, it's not fun to prep for. But my doctor wants to find out why I'm having so many bouts with diverticulitis as I am careful of what I eat. Of course, I'm scared. After having a bout with cancer 10 years back, you always worry about every single unusual pain anywhere. So I'm praying everything will turn out okay and I won't have to have surgery. After all, spring is coming and I have big plans.
I canned up 20 pints of ham and bean soup the other day and boy does it look great sitting down in the pantry! Next is another half ham and split pea soup. Can't wait.
Will and I said we wouldn't be planting 50 different new-to-us tomatoes this year again. But guess what? After waltzing through catalogs and websites, we ended up picking about 30 new ones to try. Hey, what can I say; we're addicts — plant addicts, that is. (Hey Will, get out the bulldozer and clear more land!) — Jackie