It's still wet here, but boy is the garden ever producing!
Haying has been difficult. We've been having significant rain every three days or so. Not half an inch or less, it's been 2 inches, 3½ inches (and more) at a time. The hayfields never dry out well. But just lately we have had four days with no rain so Will is out raking hay today. We're praying the standing water in the field has gone away and that it doesn't rain before he can get the hay dried and baled.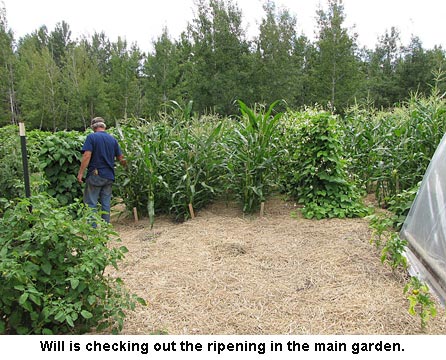 But all this rain has made our garden boom. This year I only planted one double row of Provider green beans, our standby canning bean. Yesterday I picked a five-gallon bucket full from one side of that fifteen-foot row! And the same today. So yesterday I canned up green beans and today it'll be mustard bean pickles, our favorite pickle of all.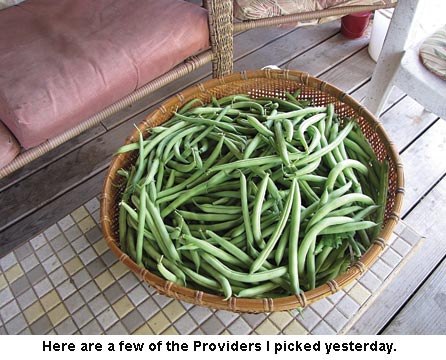 For our seed business, we planted 26 different rows of beans. Some are pole beans; some bush. Wow, are they producing too!
Three of our favorites this year are a yellow pole bean, Monte Gusto; a yellow Romano-type pole bean, Gold Marie Vining; and a green multi-purpose bush bean, Magpie.
Monte Gusto is covered with ten-inch-plus long, narrow, round beans. I can't wait to try some tonight for supper.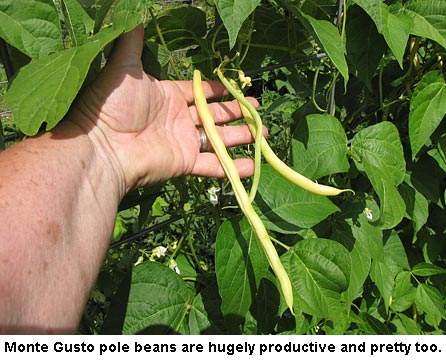 Gold Marie Vining is so beautiful. It's also very productive and the long, flat beans are super pretty and tender; I ate a few raw. Very sweet and crisp.
Magpie simply blows us out of the water with its productivity! It is covered with refined green beans and blossoms, and I do mean covered. We'll also eat a few to try out the fresh eating potential, which I think will be wonderful. But Magpie also makes a beautiful, tasty dry bean. It's refined and has gorgeously marked black and white beans.
The first tomatoes are ripe so I'm thinking bacon, lettuce, and tomato sandwiches tonight. Mmm, can't wait. — Jackie