Despite the rain, we're still getting lots done
Okay, you've seen our main garden by the house, all mulched and pretty. I think it's only fair to show you the new north garden, which is a mixture of pure white clay and 200 tons of rotted manure. (It needs at least that much more!) With all the rain, we haven't been able to walk in it let alone till and weed it. So there are lots of weeds and grass in that garden. Fortunately, the vegetables are doing pretty well, even so.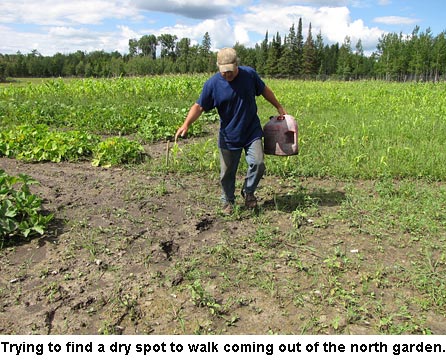 Will just finished another big project. He wanted another well to supply the barn. So he built a point on a 6 inch discarded well casing, dug that into the side of our spring basin with our $300 home-built backhoe then welded on another 9-foot length. It took several hours of pounding down with our tractor mounted post pounder, but it was finally down 18 feet in all. He stuck a tape measure into the casing and hit solid silt at 13 feet. The silt had filtered in through the slits in the point and packed the lower part of the casing solid.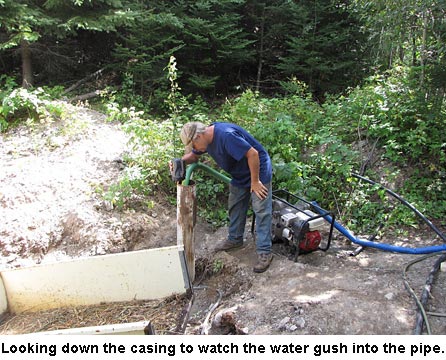 We tried to pump it out with our irrigation pump. No dice. So we rented a 2-inch trash pump and used that. Boy, what an improvement! But it wasn't all a bed of roses; the discharge hose and pump clogged up with silt several times and the whole thing had to be cleaned out. By plodding on, it was finally all cleaned out right down to the point. Then Will set the intake hose down into the new well and turned on the pump once again. First the water was kind of muddy. But soon it cleared up. And boy was it flowing! Will measured after letting the pump run for awhile. It was putting out more than 20 gallons per minute. Heck, our house well only gives us 10 gallons per minute. The project was a big success! Happy, happy, HAPPY!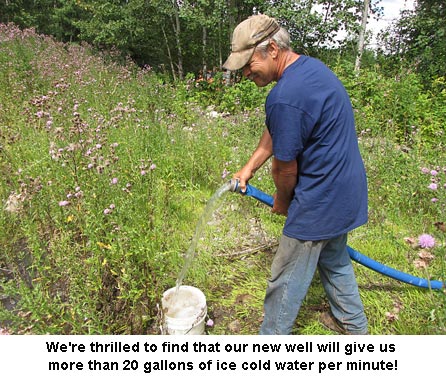 Now he just has to put the pump in the casing and dig in the water line up to the barn. He isn't going to put a check valve in the line so it will drain out after each use so the line won't freeze in the winter. — Jackie