Friday, October 28th, 2016
This afternoon we're going out to dig the last of our potatoes, two 75-foot rows in our old pig pasture. We already have the North Garden and the Main Garden, so instead of continuing to call it the "pig pasture garden," we changed its name to "The Central Garden." Isn't that high class? Anyway, we've got to get those late potatoes dug before the ground freezes. We sure don't want to waste them.
I'm getting ready for a trip to Denver, Colorado. I've been asked to speak at the Self Reliance Expo there which is November 4-5th. So if any of you would like to come, I'd sure be real happy to meet you. Just come up to the Backwoods Home booth. Jeff Yago, Dave and Ilene Duffy, and Don Childers will also be there so it'll be kind of an "old home weekend."
We had a pile of Hopi Pale Grey squash on the front porch but as the nights are getting colder, I'm moving them into our downstairs spare bedroom to store. (We still have four from last year!) These squash taste and store so well they've always been our favorites. I don't know how they possibly nearly went extinct! They're so much better than plain old acorn or buttercup squash, favored by commercial growers.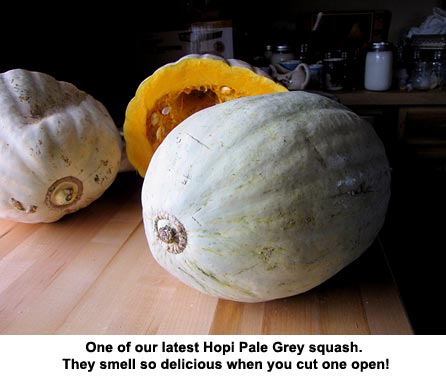 I've got a crate of nice carrots to can up, grown by my friend Dara. Our main garden was filled with extra tomatoes and beans this year, so we decided that this spring, she would grow extra carrots and we'd trade sweet corn for carrots. That was sure a win-win trade. She got to can up two crates of sweet corn and I've got carrots I didn't grow.
This afternoon David's girlfriend, Ashley, is coming over to help me can apples. She's never canned before so she's getting hands-on lessons. I've got tons of apples and the extra help is much appreciated, for sure. — Jackie