Canning apples is suddenly fun again!
Way back about 35 years ago, Mom and Dad owned a small apple orchard in southern Michigan. Most of their apples were Red Rome. Our family traveled there from Minnesota each fall to pick a lot of apples to bring home (and, of course, visit the folks). Mom had a great hand-cranked apple peeler/corer/slicer and we all had fun preparing lots of apples for her to can.
But somewhere along the way, I put mine away and have been hand peeling apples for years and years. It did the job but the job was WORK and went so slow.
Now that we have a young, bearing orchard, the thought of peeling several five gallon buckets full of apples gave me the willies! So, remembering Mom's apple peeler, I picked up one at our local L & M farm store. It cost $14.99. I wondered if it would work nearly as well as Mom's did back when…
David's girlfriend, Ashley, came over and we fastened the peeler to the top of our kitchen island and started peeling apples. It worked every bit as well as Mom's peeler, giving us a whole big pan full of apples, all peeled, cored, and sliced in about half an hour!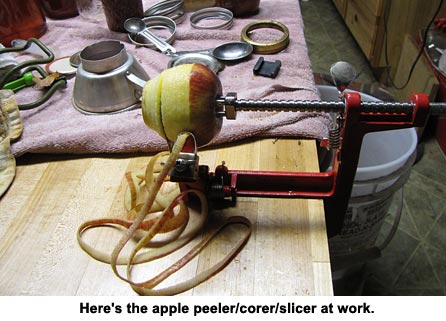 I made a light syrup and we added the apples, heating them until they got limp and shrunk down so more would fit into a quart jar. We ended up with nine quarts from that first batch. We had so much fun peeling them, too. She ran the peeler and I retrieved them, cutting off any bad spots and cutting the sliced apple in half, which made perfect pie pieces. Then we had a big pot full of peelings and cores. I put those into my Mehu Liisa steam juicer as those apples were really juicy. We ended up with three quarts of beautiful juice!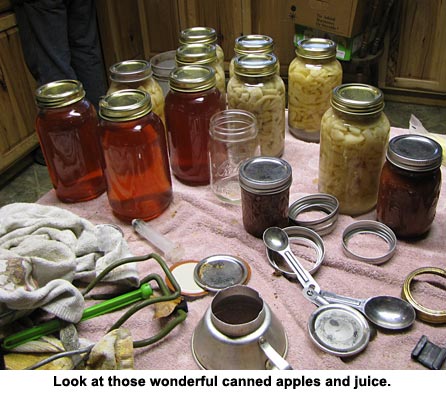 I'm real excited because we've got a crate plus a bucket and a half of apples still on the porch. What fun! And the pantry is getting stuffed too.
Don't forget the Denver Self-Reliance Expo as I'll be there, along with Dave and Ilene Duffy, Don Childers and his wife, and Jeff Yago the alternative energy guru. Come, stop by the Backwoods Home booth and say hi! (I'll also be speaking on gardening and canning.) — Jackie