Back from the Denver Self Reliance Expo and back to work
I had a great time at the Expo, meeting both old Backwoods Home family and new subscribers. And I got a chance to visit with Don and Nancy Childers (the wonderful BHM artist and his wife) as well as Ilene and Dave Duffy, and alternative energy guru, Jeff Yago.
We had a great Denver show! If you'd like to see some great photos, check out Dave Duffy's Twitter page. Just click on "home page" to the left, then click on blogs and go down to Dave on Twitter and click. Lots of nice pictures of us all.
I will admit that when I flew over big metropolis areas such as Denver and Minneapolis/St.Paul I thought a lot about what would happen if some emergency struck and all those millions of homes were suddenly without power. Not a pretty thought, for sure. And it made me even more glad to get home to our own backwoods home, way in the woods!
While I was gone, Will and David's girlfriend, Ashley, removed all the tomato cages and stakes. Then Will borrowed our friend's tractor-mounted rock rake and raked all the tomato debris into a big pile in the garden to burn. It was a BIG pile this year due to our 107 tomato plants!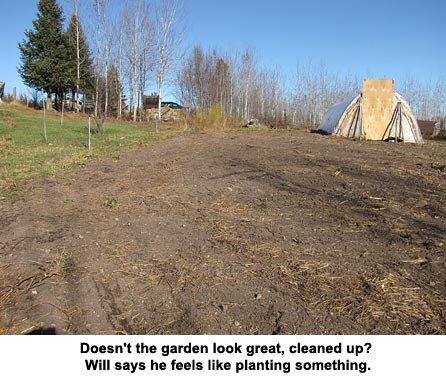 Now Will is busy hauling in big round bales of hay as the fields are finally drying out enough to drive on. And I'm playing catch-up. I've got a few apples and carrots to get canned up. Then I want to can up a huge batch of chili to use up some of our last-year's beef. I opened two quarts of chili last night and boy did it ever taste great. Especially when I added some New Mexico red chile powder a friend, Mike, picked up for me while I was at the Expo. It's addicting! Okay, so I can only use mild now because of hot setting off my diverticulitis. But even mild is simply wonderful!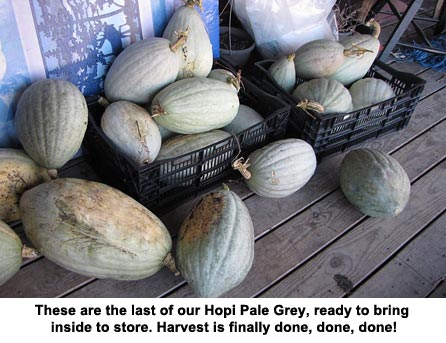 Well, I voted this morning. Not because I was enthused about my choice but that it was the best I could do. Both candidates stink, I figure. Oh well, now we get to see how things play out. But at least all the political ads are done with. Thank God! — Jackie