It's mid-forties but cloudy and misty today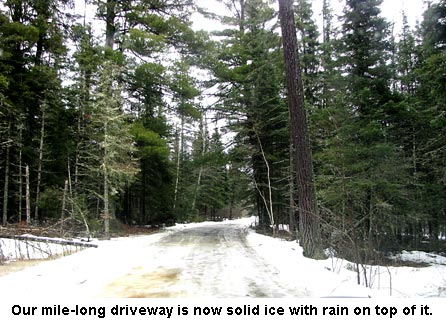 Today Will's out in our north woods, cutting a trail through the trees to a huge white pine he cut two days ago. The pine had been leaning, more and more over the past five years, until it got hung up in a big tamarack fork. Working carefully as such a tree is VERY dangerous, Will got both trees pretty much cut through then drove wedges in. The wind did the rest. While he worked many yards away from the tree, cutting brush, the trees cracked and fell to the ground with a whoosh. The trees will be sawn into boards to use on our new barn. Waste not; want not!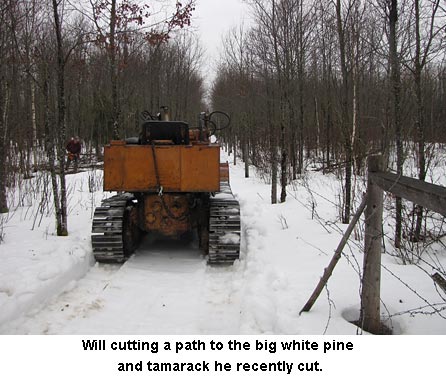 We're getting excited because the back yard and garden are slowly showing as the snow is receding. I actually walked in the yard for the first time since late last fall. The plum and cherry trees wintered well and I can't see any vole damage, although there were a few vole tunnels in the grass. There is water on top of the beaver ponds now and the creek is running.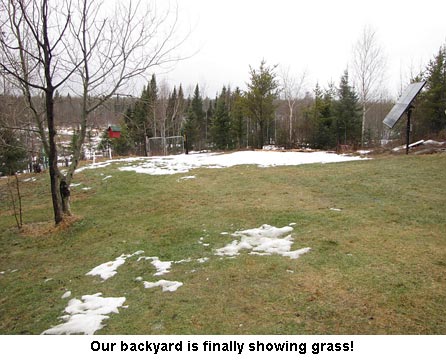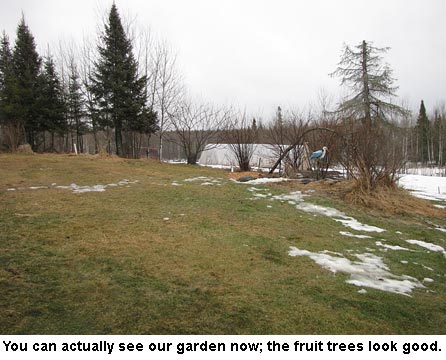 Inside, our peppers are jumping up and looking good. I'm especially excited about a variety a friend sent which she calls Venice Bootleg hot peppers (they were obtained in a cafe in Venice and "smuggled" home to the U.S.). It occurred to me how much gardening brings us all together. Through our seed business, we've had letters and seed orders from folks who are Amish, Baptist, Seventh Day Adventists, Catholics, Mormons, Muslims, Buddhists, and more. And you know what? We're all excitedly awaiting our seeds springing to life with warm weather. Brothers and Sisters in gardening. I think that's a lesson for us all. — Jackie