I had a terrible spring cold
I hope I haven't worried any of you but I just wasn't up to blogging last week. I got a terrible spring cold — runny nose and coughing 24/7. Yep, I took zinc, vitamin C, etc. But it still hung on. Finally, yesterday, it started letting up and today I feel much better. Whew, I'm glad that's over! Luckily, our spring weather was cold and rainy so I didn't get too crazy waiting to get outside and do something.
David and girlfriend Ashley collected a big truckload of pallets from our local lumber yard (with permission, of course). Then they set about building … a duck house? Okay, a few weeks back, Ashley bought four ducklings from our local farm store. They've been housed in a plastic tote in the bedroom. But ducklings grow really fast and are hugely messy, playing in water more than drinking it. They had to go somewhere safe. When they asked where would be a good spot to build a duck house, I envisioned something like a dog house with a fence. So I walked them down to the garden edge where there's a nice spot with some young poplar and chokecherry trees in it for shade. Well, they started building the floor. Holy buckets, it's 8′ x 10′ square!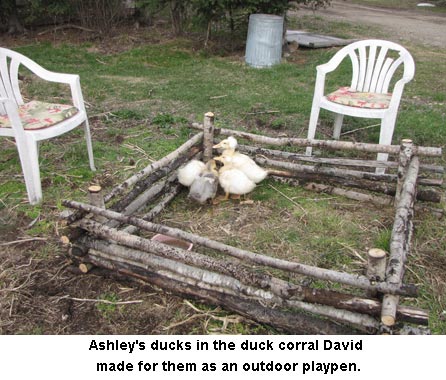 They sheeted the pallet floor with OSB and leveled it nicely, then started screwing pallets together for the walls, which were then sheeted on the outside with OSB. A trip to the lumber yard brought back enough 2x4s to do the rafters and upper side walls. Unfortunately, they ran out of cash about then. David brought home some used cedar 5/4 decking from a deck the company he works for was replacing and used that for purlins for the roof. They plan on buying sheet metal for the roof but for the time being, it's covered by a plastic tarp until a paycheck rolls around.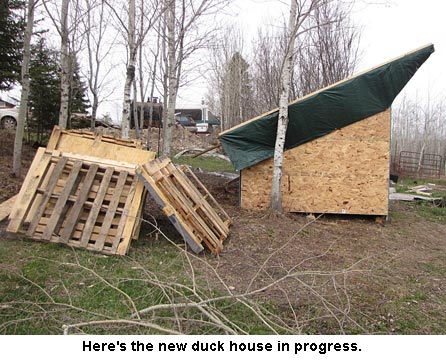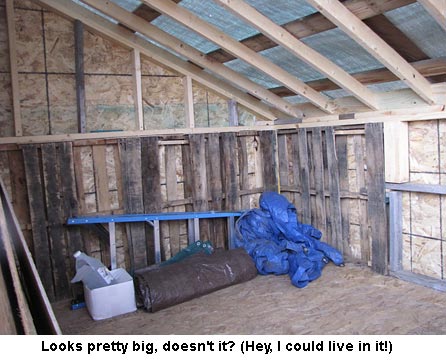 Yesterday was gorgeous and I walked around outside, enjoying the sun, looking at the garden, orchard, and flower beds. Will is taking apart our house garden's raised beds as we decided to re-do it as a regular row-crop type garden, which fits our needs more right now. And the raised beds were in sad need of either fixing or replacing.
We'd heard we were in for a nasty start to May; up to 8 inches of snow! SNOW on May 1st? Hey, it's northern Minnesota, after all. So we did extra chores like setting out round bales for the cattle and horses, picking up miscellaneous tools, and putting out extra bedding for the goats. And it paid off.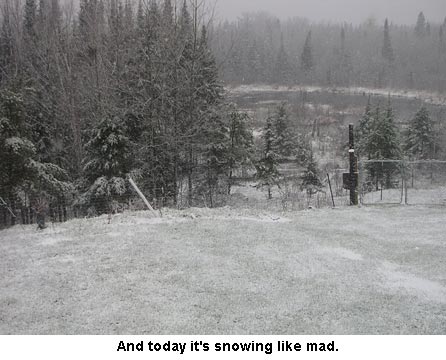 At 7 this morning, it was raining off and on. But in an hour the snow began. And now it's snowing like a blizzard. Tomorrow they're forecasting fifty degrees! Wow … — Jackie