My daughter-in-law, Kelly (Bill's wife) had a tiny, very healthy baby boy. Right in the middle of a good old Minnesota blizzard! Bill kept me posted by cell phone from the hospital. He knew I'd be biting my nails, wishing I could be there. But unfortunately, the roads were nearly impassible and with my 91 year old mother I knew better than to try it. Yes, I knew we could drive, although it'd be a slow drive, as visibility was nearly zero, but if we had some unknown car problem, such as a fuel pump going, we'd be sitting by the side of the road with Mom in better than a foot of blowing snow.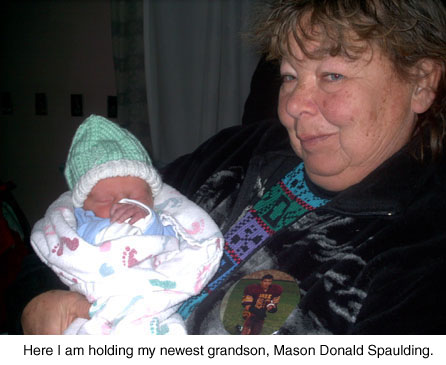 By nightfall, we'd had about 18 inches here at home and it was still snowing. But by bed time, it had stopped and the wind wasn't blowing. When I woke up this morning, there wasn't any more new snow and the storm seemed over. So I checked the weather radio, which I do every morning and evening, especially when contemplating a trip. They said we'd have from one to two more inches of snow but the winter storm warning had expired.
Hooray! I quickly got up, dressed, got Mom up and dressed, gave her her pills and breakfast, woke up David and got ready to drive the 80 miles to Duluth. I knew the roads would still be slick, but felt confident that I could make the drive alone with no trouble. Grumbling David stayed home to be with Mom (although he would have much rather have gone with me!).
In two and a half hours, after passing several SUVs in the ditch, I arrived at the hospital and got to hold my newest grandchild, Mason Donald Spaulding. (Were my children EVER that small????) Sigh. They grow up so fast.
Readers' questions:
Making a milking machine?
I have been milking a holstein-jersey cow for quite a while and am interested in making my own milking machine. I need help. I don't know what size vacuum pump I need. I know about the other equipment but nothing about the pump. I don't want to injure my cows, and have you seen the prices of milking machines online? Any help you could offer will be greatly appreciated.
Kevin Windham
Louin, Mississippi
You've got me, as my milking machine is on the end of my arms! Long ago I had a dairy herd and used milking machines. But I picked up good used equipment at a farm auction. The pump cost $50 and the two milkers and belts went for $25 each set. I did need to buy new inflations as the old ones were cracked and nasty. I think rather than trying to build your own, I'd go this route. You can open a whole can of worms by having a vacuum machine that delivers the wrong vacuum. (Can you say MASTITIS?)
I would put an add in a local shopper or even an online site for farmers, asking for a good used vacuum pump and milker. I've done this a lot and had great results. And made some friends in the bargain. Good milking! — Jackie
Outside wood boilers
Hi Jackie, I am licenced home inspector and trainer in CT. I just want to start by saying you are an inspiration to the off grid folks,I hope to be there someday myself. The recent blog on wood-stoves and outdoor heaters is a good thing for more folks to understand. I heat with a BIG Moe wood stove, it works great. The issue with some of the outside boilers is a new one to most folks. www.woodheat.org is a good starting point to learn about the problems folks have with these boilers, and where the companies which build them need to get to. Hope this helps you and others to know more about these new dinosaurs, and maybe the companies who build these will take notice if we all know more about what we should expect out of our wood fired boilers. Maybe an in depth article from someone at BWH. Keep warm.
Brian Dunbar
Harwinton, Connecticut
Thank you for your information. I'm lucky in that my oldest son, Bill and his wife heat with an outside wood boiler and I also have several friends who do, as well. The trick for us is to figure a GOOD way to make them work when you live off grid! There are a pump and blower that run nearly constantly and we have that to contend with. So right now, it's in the thinking stage. This might last for a year or five. Who knows? But one thing for sure is that next winter we'll have at least one other wood burning stove in the house. My kitchen range just doesn't hold a fire long enough to heat the new greenhouse when it's way below zero. — Jackie
Bavarian style kraut
Jackie, we make kraut every year. We are looking for a recipe to make the bavarian style with caraway seed. We have not been able to find one. Thank you for your time.
Ruth Gross
Roscommon, Michigan
A German friend gave me her recipe so I could pass it on to you. I hope you like it.
2 quarts sauerkraut, drained\
1tsp caraway seed
1 medium onion, chopped
1 C medium ale (if you like)
1 Tbsp vegetable oil
Add chopped onion and caraway seeds to oil in large frying pan. Cook onion until tender and toast caraway seeds, stirring well to prevent scorching. Add drained sauerkraut and ale if you wish. Heat well until flavors are well blended. Serve warm with a good dark rye bread and some fried German sausages! Good eating! — Jackie