We're plowing out after a foot of new snow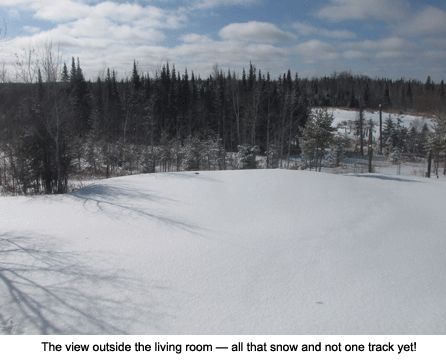 We listen to the weather radio every morning to check upcoming weather. We'd bought a used haybine at a farm 65 miles southwest of us, so now we can cut our own hay. We heard there was a major winter storm heading for us, so on Saturday, Will, David, and I drove down and picked it up before the snow hit. Saturday's weather was a bit snowy, but mild, and the trip went uneventfully. We were a little nervous because the haybine takes up a whole lane, plus about four feet, so David, our driver, had to closely monitor mailboxes, signs, and oncoming traffic at all times. We all breathed a sigh of relief when we left the road and started down our driveway. Even our driveway presented a challenge, though, as the very wide haybine plowed about 18 inches of snowbank all the way to the house! I was worried that David would get "sucked" into the left-hand snowbank or a ditch. But he's a good driver and is used to our driveway and we made it in. Now we have a baler, rake, and haybine, so we can do much more for ourselves. The farmer David works for in the summer is in his late eighties and sooner or later will have to slow down a bit and we want to ensure that our animals always have hay.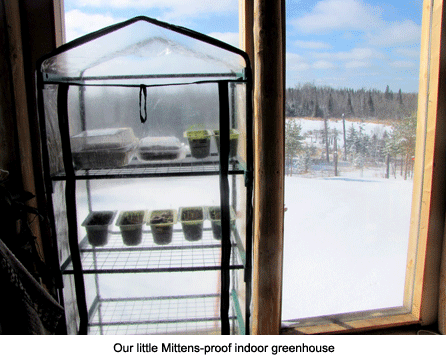 Sunday morning, the storm struck with heavy snow and 25 mile an hour winds. It was a good day to stay indoors. So I assembled the little (cheap) plastic greenhouse I'd bought to keep our monster kitten, Mittens, from playing in our newly-sprouted pepper plants. Seems to be working and the peppers look very nice. It's odd to see tiny green sprouts when there's a blizzard roaring outside!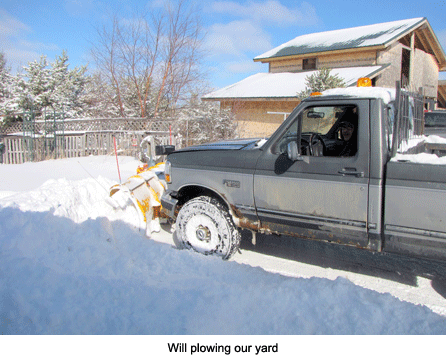 Today, the storm's over and Will's out plowing our mile and a half long driveway, then the trail to the horse pasture, calves, and pigs, as well as the yard. It's so nice to see the bright sunlight again. The weather's sort of like life: you get some pretty scary, cloudy days, then if you wait the sun comes out and makes everything alright. — Jackie