Our friend, Eric, lives off grid. He works hard and enjoys a solar shower every evening. But now it's getting colder and the sun isn't out as much and the water barely gets lukewarm. So Will helped him make a wood-fired water heater so he can quickly heat up enough water for a nice long…and hot…shower.
Will made this from a gas hot water tank he got from the dump. He cut the top off then cut a section out of the middle. Then he cut about 12 inches off the middle section and welded it to the bottom of the tank, making the firebox. Onto the bottom of the firebox, he welded a flat, circular piece of scrap steel. He then cut an access door into the firebox. The piece that was cut out became the door and Will welded a pair of hinges (from the dump) onto the tank and door and the heater was finished except for the bolt Will welded on for a firebox door handle.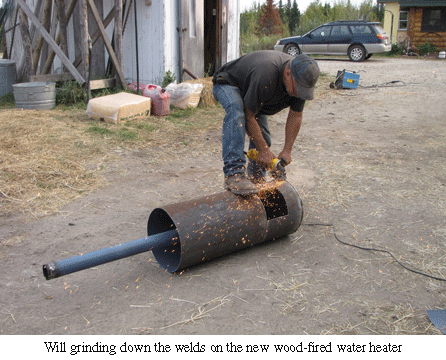 Because this was a GAS water heater tank, there was already a chimney/vent in place, which he left in place to draw the smoke from the firebox up through the water and tank.
Eric intends to place the heater on an elevated platform and plumb it into his shower, indoors. If he had a pressurized water system, he could bring the heater back and Will would weld the top of the tank back on. As it is, he will pour cold water into the top of the tank, start a wood fire in the firebox and soon he'll have a hot shower after a long day's work.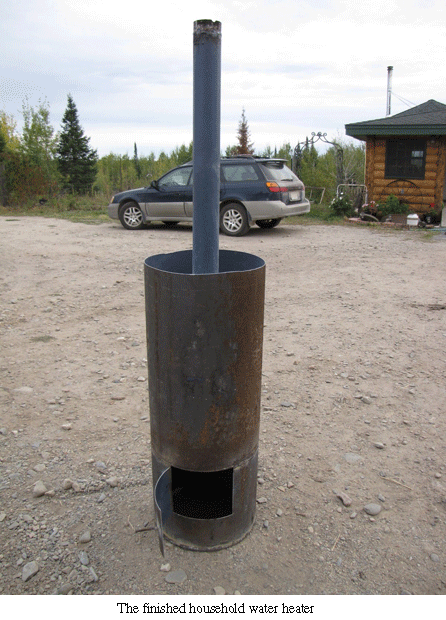 A shower for free, made from discarded "junk." We love it!