From our homestead to yours, whether it's your forever homestead or the place you are for now, we truly wish you a wonderfully happy New Year! It doesn't take parties, drinking, and staying up 'till midnight to make a happy New Year. Will and I are just going to sit by the fire, eat cookies, and enjoy the evening. (We may even get wild and crazy and sit in our very used, two-person hot tub in our bedroom that we bought last year.) Meanwhile, I'm working on an article for the magazine while he's out working on the hydraulic pump of the tractor. He's been hauling lots of large logs from trees blown down by the wind out of the woods and up to the sawmill. There's getting to be quite a pile! All of the barn lumber is right there in the logs with plenty left over. Now that's exciting! He wants to get as many logs hauled as possible before the snow gets too deep to navigate with the tractor.
I can't tell you what a happy year it's been for us. Sure we have had broke times where we struggled mightily with finances as we tried to do everything possible to advance our homestead as quickly as we can. But through it all, we've been fine and are now looking forward to the New Year and all we can get accomplished. We look back on the old year and are extremely happy with all we've gotten done. We have no resolutions; we'll just keep on doing what we do and try to do the best we can with what we have and ask a little help from God along the way.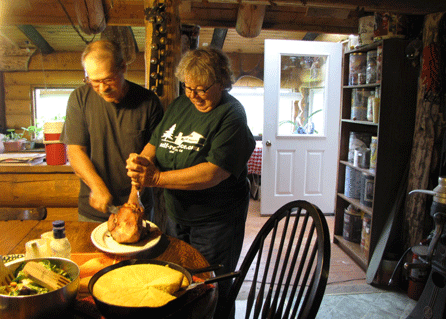 This photo is at one of the meals from our August seminar. (Oh, by the way, just a hint to let you know, we're planning our next seminar for August 2013 and several of our past attendees are already saying they're coming. I'll put a flyer together soon so you who wish to come can have plenty of time to plan. We're covering plenty of canning, seed saving, chicken raising, cheesemaking, and more.) Again, the photo's old, but Dave said he was sending back my camera.
MAY 2013 BE A VERY HAPPY ONE FOR ALL OF YOU! — Jackie