We have several, but we use our Do-Bid.Com site because there are auction houses 20 miles from our house. We can go view different things as well as pick up items for which we had the winning bid. We bought our new big tractor on this site. Last week, Will got a pressure washer (didn't know if it worked) for $17, a dishwasher (didn't know if it worked) for $4, and file cabinets for my office for $3 and $7 apiece. Will monkeyed with the pressure washer and it does work now so we can pressure wash our equipment to keep it clean and also pressure wash our house logs and decks when it's time to re-stain them.
I've never had a dishwasher (unless you count my girls!) but as we are re-doing the kitchen to make things handier, I decided now is the time. Do I NEED a dishwasher?  Nope. Could sure get along just like I have done for years. But at $4 I thought, what the heck. And, yes, it does work! It's like new, too.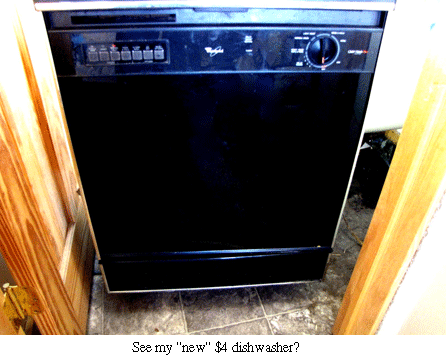 On our budget, we're not big time auction buffs, but we've sure picked up some things we need at way less than half price. Thought I'd share with you and see if you might have an online auction in your neck of the woods.
Oh, by the way, I'm running out of Hopi Pale Grey squash seeds. The response has been stupendous! One of my friends, Carol Bandy, from Virginia, grew Hopi Pale Greys last year from some seeds I gave her when she attended our spring seminar. And she's sending some of her squash seeds to me so I can share more seeds with our BHM family. When these seeds are gone, I'll have to hold your envelopes until late fall when our new crop of squash comes in. We ARE going to plant many more of these wonderful, rare squash so we can spread their seeds around. — Jackie