Although the weather threatened (and later proved inhospitable), there was quite a turnout for the 2013 Earth Fest celebrating sustainability at Mountain Iron, Minnesota, this past Saturday. Held in three different buildings, the event attracted many new people to Backwoods Home Magazine.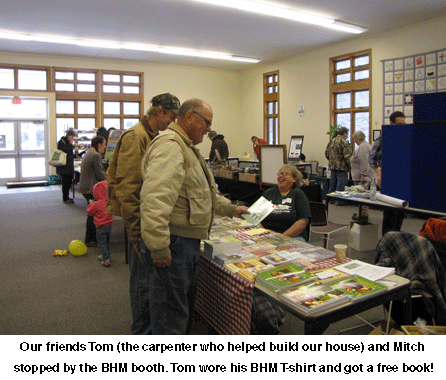 Will and I talked to dozens of folks, some who had never heard of the magazine and others who were loyal fans and had traveled there just to meet us. We talked gardening, seed saving, alternative energy on a shoestring, raising animals, as well as the joys of homesteading all day. Whew, did we have fun. We also passed out some flyers for our August seminar to some very interested folks. (We still have five spots open.)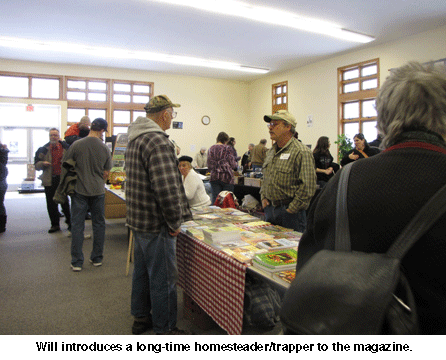 As we stood there visiting with people, we kept glancing out the window at the heavy, wet snow that was falling steadily. Oh oh. Just like Earth Fest 2012! And it kept on snowing all day. Luckily, it didn't take much carrying to pack up at the end of the day as we trudged through a foot of very wet new snow to our Subaru.
As we drove home the roads got worse and worse. Luckily, the snowplow had been over the road halfway through the snowstorm. There was about eight inches of snow on the road, but it was drivable. Finally, five miles from home, the snowplow had turned off, leaving a foot or more of snow on the road. Very tough going with the Outback dragging in the snow and spinning on the slippery ice under the snow. We do love our 'Roo!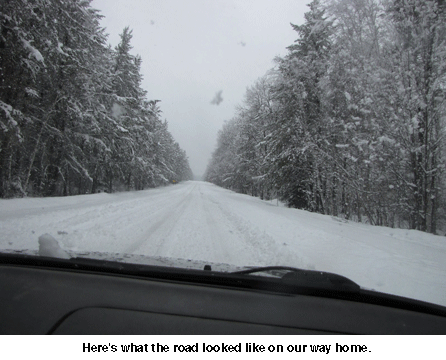 We got to our drive and plowed on in. Whew! No robins yet and the beavers are snickering under the ice. We're plenty tired of winter already. Come on spring! — Jackie